PSFCU Scholarships
For the thirteenth consecutive year, PSFCU has awarded scholarships to Polish youth, helping in making our younger members' dreams of higher education a reality. During three ceremonies (June 12th for high school graduates, June20th for Illinois recipients and June 25th for graduate students), our Credit Union awarded a grand total of $200,000 divided among 280winners.
Over 166 high school seniors and 114 undergraduate students received financial aid. All three celebrations were attended by the Board of Directors, representatives of PSFCUsponsors, and special guest speakers. From the beginning, the PSFCU Scholarship Program has assisted over 2,300 students, with scholarship grants total over $2.8 million to date. Even during the economic crisis, our Credit Union has been able to continue its mission and, in addition to offering the latest technological solutions, also improves programs for the Polish community. Therefore, this year's PSFCU Scholarship Program consisted of four components:
Our Credit Union offers a program for high school seniors, who will begin their college education this September. This program is administrated through CUANY - the Credit Union Association of New York. Within this program, 10 students were awarded $1,000 scholarships, and 156 more received $200. The special guest speaker for this event was Rita Cosby, a well-known television news anchor, public speaker, and author of Quiet Hero: Secrets of My Father's Past.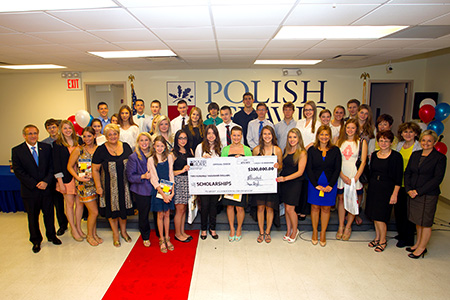 High School Scholarship winners in NY with Rita Cosby and PSFCU management
PSFCU also sponsors an autonomous program geared toward undergraduate and graduate college students. In this program, we have awarded 5 scholarships in the amount of $5,000 each, 11 scholarships in the amount of $2,000 each, and 88 awards whose winners received $1,000. The main guest speaker for this event was Marek Chodakiewicz from the Institute of World Politics in Washington D.C.
The "Astronomy Adventure with Copernicus" is another one of Our Union's educational programs for Polish school students.This program was organized in cooperation with the Polish Supplementary School Council America, an organization encompassing 74Polish supplementary schools on the East Coast that provide education to over 9,500 students. Within this program, 6 elementary school students will participate in a week-long science camp at the Kopernik observatory in Vestal, NY on the Union's dime. To date, Our Union has awarded over 100 children and has given over $95,000 towards this endeavor.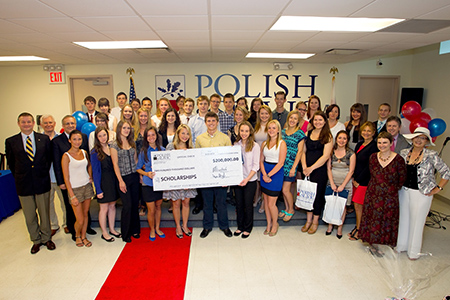 College Scholarship winners in NY with Marek Chodakiewicz & PSFCU management
Our Midwest branches hosted their own award ceremony, and we are proud to report that Mr. Adrian Wierzchowski is one of the winners of not only the PSFCU Scholarship, but also of the CUANY Scholarship Program (the Credit Association of New York, which helps Our Union with the application assessment and in choosing the top ten highest scores). Adrian will obtain an additional $500 from CUANY along with a $1,000 scholarship from PSFCU. This is an astounding accomplishment, in consideration of the fact that among thousands of applicants, CUANY awards only a small amount of scholarships to students.
The newest component of the scholarship program, "Być Polakiem," is a contest organized by the "Świat na Tak" foundation in cooperation with PSFCU, geared toward individuals aged 9 through 25. Within this contest, Our Credit Union awards $1,000 to one member from each age group that makes the winners list. This year, two members of Our Union won this prestigious award. It is worth mentioning that, among the 280 scholarship winners, 37 scholarships were attained by students from Illinois.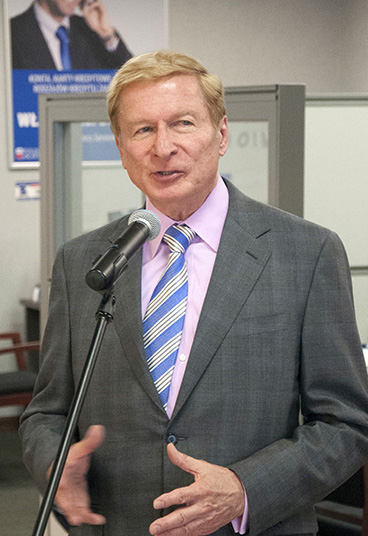 Michael Fryzel welcomes guests at the Chicago ceremony
During the Chicago celebration, Mr. Michael Fryzel, board member of the NCUA, served as honorary guest speaker and personally congratulated our winners. Our entire Scholarship Program was overseen by the Scholarship Committee of the PSFCU Board of Directors, consisting of Ms.Iwona Podolak and Ms. Bożena Kajewska-Pielarz. The Nominating Committee (which nominates college students to receive a PSFCU scholarship) is made up of 11 persons representing the community, including: Dr. Katarzyna Kowalska, Dariusz Baran, Maria Bielska, Dr. Zbigniew Bogdanowicz, Prof. Victor Marek Borun, Rev. Jacek Buda, Prof. Katarzyna Celinska, Prof. Dariusz Czarkowski, Magdalena Pietrzak, Beata Popowska and Agata Szawkalo.
This year's scholarship winners will attend a number of renowned schools, including Brown, Yale, Columbia, Stanford, NYU, Rutgers, MIT, or Harvard University. They will pursue studies of e.g. fine arts, medicine, business and technical subjects.

Go to main navigation