Another free cancer screening session in Maspeth

On Saturday, April 13, the Polish & Slavic Federal Credit Union yet again showed that they care about its members' health as well as about their local community by offering free cancer screenings to Queens residents.
Our Credit Union, in cooperation with the American Cancer Society, American Italian Cancer Foundation and Multi-Diagnostic Services, Inc, invited women aged 40-64 to its branch, to offer them mammographys, also providing them cervical cancer screening referrals to the doctors participating in the program. Colorectal cancer screening kits were available both to women and men aged 50 and up.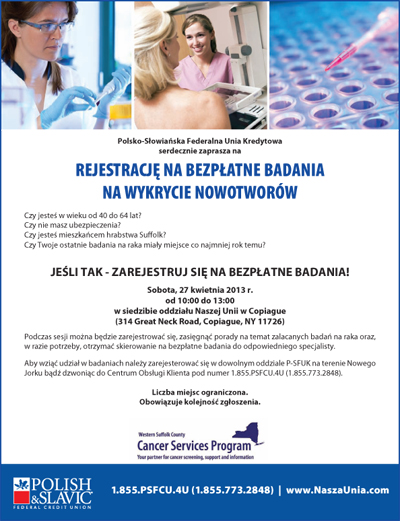 Our Credit Union organized such event in Maspeth for the second time. In the previous years PSFCU has offered numerous health check ups, helping to diagnose blood sugar level, cholesterol, and check the general health of members. Thanks to the new cooperation with ACS, 89 women altogether received mammogram screenings, 27 referrals for cervical cancer screenings were provided to the participants and 65 colorectal cancer screening test kits were distributed.
More sessions are being planned, however due to the budget cuts of the New York State Cancer Services Partnership Program that funds the free screenings provided by the above mentioned organizations, the availability and the rules for applying for the funds are not known at this point. PSFCU is also in the process of organizing similar sessions in New Jersey. Detailed information about these sessions will be available soon. We invite you, to our Copiague branch on April 27th, where a Cancer Services Program of Western Suffolk representative will be advising our members about the screenings available in the area and will be providing free referrals to the doctors participating in the program.
Go to main navigation