Ms. Marzena Wierzbowska Becomes the New Chairperson of the PSFCU Board of Directors
(Brooklyn, NY, October 25, 2011) – The Annual Meeting of the Polish & Slavic Federal Credit Union took place on Sunday, October 16, 2011 at the headquarters of the Polish Cultural Foundation in Clark, NJ. During the meeting, the financial results for fiscal 2010 (Oct. 1st, 2009-Sept. 30th, 2010) and the results for the Board of Directors election were presented.
Sixteen candidates ran in the election, with 4,642 votes cast by PSFCU members. Mmes. Małgorzata Gradzki, Beata Klar-Jakubowski, Marzena Wojczulanis, and Mr. Leon Kokoszka were elected to the four available seats.
The newly constituted Board of Directors met for the first time at a special Board meeting on Thursday, October 21, at which time a new Executive Committee was selected. Ms. Marzena Wierzbowska became the Chairperson of the Board of Directors; Ms. Elżbieta Baumgartner was appointed as the new 1st Vice Chair, Ms. Beata Klar-Jakubowski the 2nd Vice Chair, while Mr. Leon Kokoszka and Ms. Małgorzata Gradzki were nominated Treasurer and Secretary, respectively.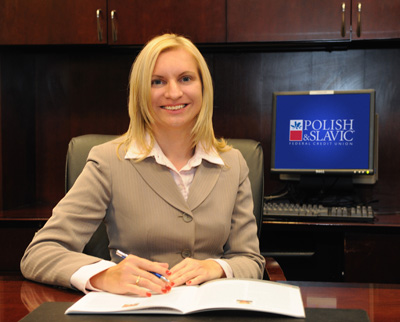 Ms. Marzena Wierzbowska, new PSFCU Board of Directors Chairperson
"I would like to thank the Directors for selecting me to this position of high responsibility, and all of our members for the trust bestowed upon me. I will ensure that PSFCU remains a safe and stable financial institution, which respects the rights of all of its members," Ms. Wierzbowska said. "Under my supervision, we will improve communications between the Board of Directors and PSFCU members. The Board's actions will be absolutely transparent and open to public discussion. The Board will respond quickly and emphatically to problems suggested by members, which, consequently, will help us avoid conflicts. I will strive to reduce legal expenses and will make sure that PSFCU can enjoy further dynamic growth".
Ms. Marzena Wierzbowska, who has served on the Board of Directors for four years, studied journalism and political science in Poland, and obtained a degree in psychology at New York University (NYU). She is known to the Polish community for her work on behalf of Polish immigrants. Ms. Wierzbowska served as director of the Legal and Social Services program at the Polish Cultural Foundation in Clark, NJ, and was also a director of the Community Action Program and Manager/ Coordinator of the municipal ESL teaching program organized by the City of New York.
Go to main navigation