POLISH & SLAVIC FEDERAL CREDIT UNION
CONTINUES TO BREAK NEW GROUND IN CHICAGO

Country's Largest Ethnic Credit Union Moves Forward With Ambitious Expansion
By Announcing Plans To Build Its Third New Branch In The Windy City;
Brooklyn-Based Credit Union Opened Its First Two
Chicago Branches in January 2010
NEW YORK, NY (February 17, 2011) – Breaking new ground, both literally and figuratively, the Polish & Slavic Federal Credit Union announced plans last week to expand its footprint by opening a new branch in suburban Chicago. When completed, this will mark the credit union's third Chicagoland branch, and the sixth new branch it has built over the past three and a half years.
Just over a year ago, after establishing its presence in the suburban Chicago communities of Mt. Prospect and Norridge, the Brooklyn-based PSFCU broke ground for the planned branch in the heavily Polish community of Bridgeview, just outside the city's southern edge. In expanding far from its Brooklyn base, the nation's largest ethnic credit union is determined to bring its successful formula to targeted areas that hold great promise for increased membership.

"They have their roots in the New York and New Jersey area, where they are a $1.4 billion credit union, and have done fantastic things in all the communities in which they are located," said Michael Fryzel, former chairman and current board member of the National Credit Union Administration, who was the guest of honor at the ground-breaking ceremony. "They opened up two branches in the Chicago area last year and in that short period of time they added over 2,500 members and over $40 million in deposits, and that is just fantastic." he said. "This credit union knows how to help people, knows how to serve their communities, knows how to provide what credit unions are all about. That exemplifies PSFCU."

In addition to opening the two new Chicagoland branches last year, the PSFCU began expanding its geographic reach two years earlier with openings in Garfield, NJ, Maspeth, NY, and Trenton, NJ.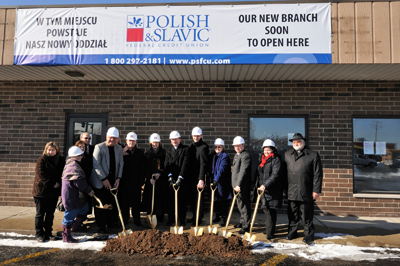 Michael Fryzel(eighth from the left), Ron Culen (fifth from the left),
Irena Marchaj (seventh from the left), representatives of the city,
representatives of the largest Polonia organizations, invited guests
and PSFCU management at the symbolic groundbreaking
"We will continue to adhere to our strategy of serving Polonia everywhere," said Irena Marchaj, the treasurer of the PSFCU board of directors. "We will go where we are needed, and where we can work together with these communities to achieve financial success. This strategy led us to Chicago last year, and it will continue to lead us to those areas where ethnic Poles and Polish-Americans demand our services."

After witnessing the mutual benefits of an ethnic credit union in the two northern Chicago suburbs, Bridgeview community leaders lobbied the PSFCU to do the same in their Cook County village. The main draw: the area is home to approximately 150,000 Polish-Americans, a majority of which emigrated from the Podhale region of Poland.
The future branch will be located at 8342 S. Harlem Avenue. It will be built on the previous site of the Department of Motor Vehicles. The 6,000-square-feet structure will feature seven Member Services Representative desks and five teller stations. Also available will be drive-through lanes to help speed the banking experience for many members.

Joining Mr. Fryzel and Ms. Marchaj at last week's Bridgeview groundbreaking were Tadeusz Czajkowski and Stanisław Zagata, presidents of two Chicago organizations supporting the PSFCU; Ron Culen, VP/Regional Management, Illinois Credit Union League; leaders of the Chicago Polish-American community; numerous representatives of the Polish-language TV, radio and press outlets; and local authorities representing the village of Bridgeview.
Go to main navigation