The Credit Union Awards Young Artists for Their Works of Art
Students of Polish Schools receive their awards from the contest,
"The Credit Union Bonds Us", sponsored by our Credit Union
(New York, November 9, 2006) – Happy and smiling faces, eyes filled with hope, that they will be the winner – that was the atmosphere during the event held on Friday, November 3, 2006 in the community room of our headquarters at McGuinness Blvd. This was the final phase of the art contest prepared by the Children's Smile Foundation and sponsored by the Polish & Slavic Federal Credit Union.
Approximately 70 children, ages 5 to 14, from Polish schools located in NY & NJ, took part in the contest. Among the dominating "works" that were submitted to the judging committee, were of various colorful interpretations – "The Credit Union Bonds Us". The judging committee, who evaluated the work, was comprised of PSFCU directors, Ms. Krystyna Myssura, Ms. Malgorzata Wadolowski and Ms. Bozena Kajewska-Pielarz. Ms. Teresa Rysztof of the Children's Smile Foundation was also on the committee, as well as employees from the PSFCU's Marketing Dept.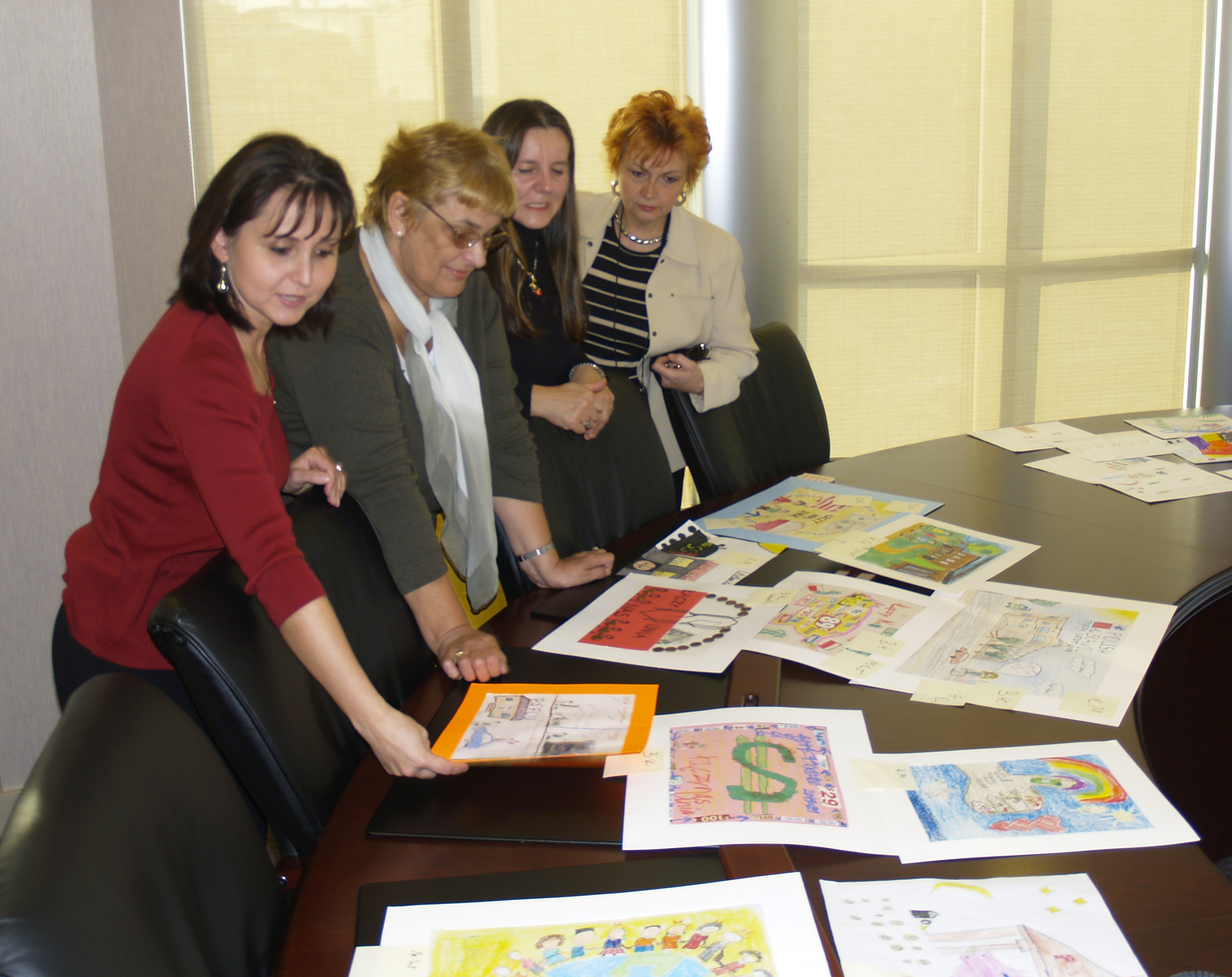 Members of the Judging Committee select the best - from left (M. Wadolowski; Bożena Kajewska-Pielarz, Teresa Rysztof, i Krystyna Myssura)
"We are pleasantly surprised at the number of works of art that were submitted – we never expected that so many children would be interested in participating in this contest", stated Ms. Myssura – "the committee had a very difficult task in selecting the finalists, since so many presented a high level of artistic skill".
Six main prizes were awarded in two age categories, along with eight awards of distinction. The first prizes went to Natalia Nawrocka of the younger group and Ania Oldakowska of the older group. The Board of Directors special award went to Philip Gajczyk for a very unique interpretation of the contest topic, as well as the interesting presentation of his work. Philip presented two worlds in his painting – the first was gray and sad without the Credit Union, the second was full of color and success with the Credit Union.
Works of art on display
Many children, who participated in the contest, attended the awards ceremony; which was held in the community room at 100 McGuinness Blvd on Friday November 3, 2006 with their parents or guardians. The prizes and awards were distributed by Malgorzata Wadolowski and Krystyna Myssura. The event was also accented by a violin concert by Ania Kurianowicz, as well as a presentation by Jan Brzechwa, titled "Wlos". The performances were well received by the audience.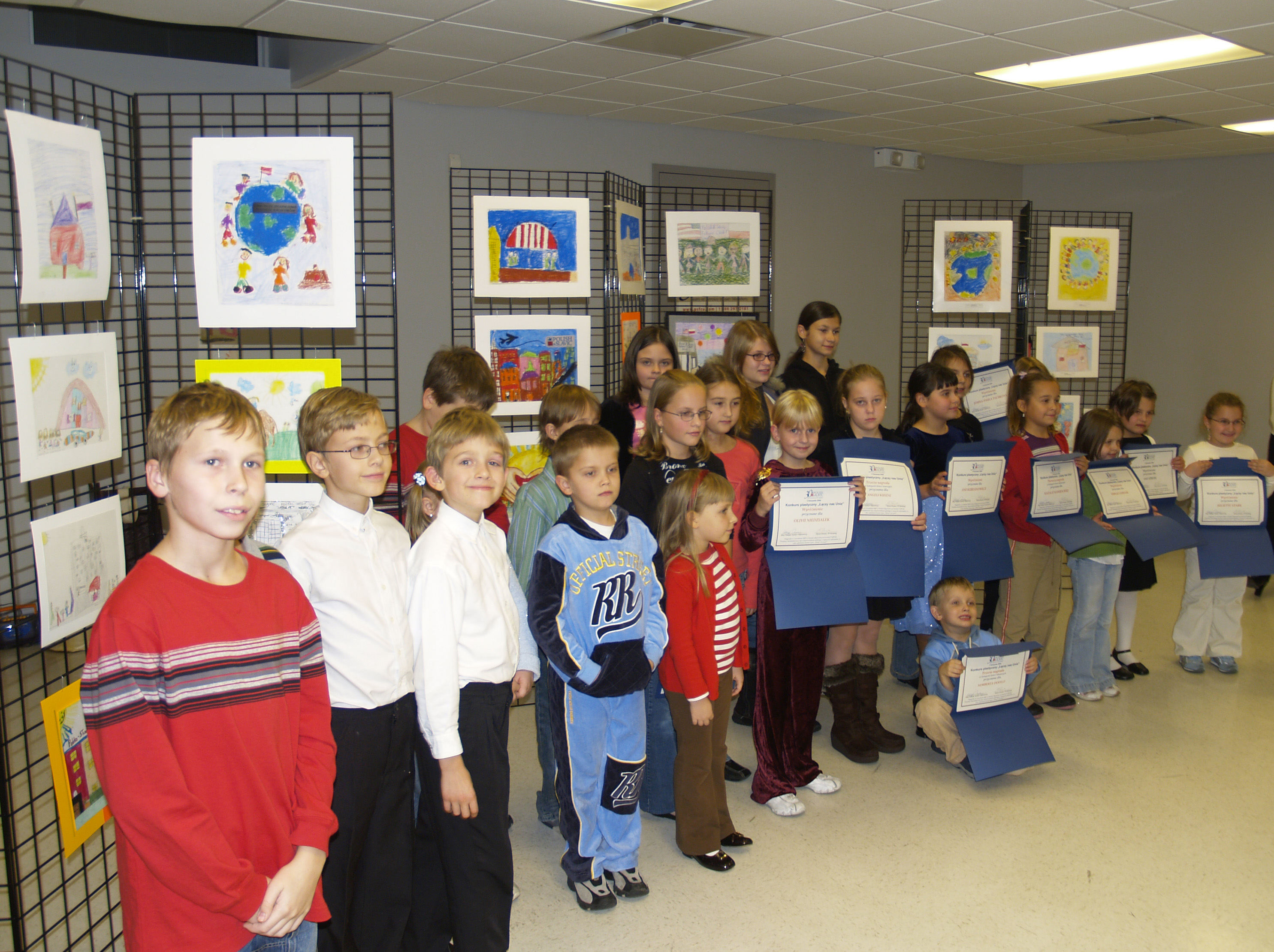 Young artists and winners pose for a picture
"The works of art presented by these sweet little children, gave us an idea of how this youngest group sees the activities of our Credit Union" – stated Ms. Wadolowski – "We are working hard so that parents and their children learn about our Credit Union, not only as a financial institution, but as well as an organization that cares about the Polonia family. In a few years, most of these little ones will be members of our Credit Union."
Go to main navigation