Our Credit Union Hosts Delegation
of the Polish Ministry of Economy

New York, December 7, 2010 – A meeting of PSFCU authorities with a delegation of the Polish Ministry of Economy took place on Tuesday, October 17 at the Polish & Slavic Federal Credit Union Headquarters located at 100 McGuinness Blvd in Brooklyn. Our distinguished guests arrived at PSFCU to learn about our institution which, with nearly $1.4 billion in assets, in the largest ethnic credit union in the U.S. and the largest Polish financial institution outside of Poland.

The Polish delegation was headed by Mr. Marcin Korolec, Deputy Minister of Economy; he was accompanied by Mr. Tomasz Ostaszewicz, Director of Bilateral Economic Cooperation Department and Ms. Zofia Schnitzer, Chief Specialist for Polish American Relations at the Ministry of Economy's International Cooperation Department. At the PSFCU headquarters, the delegation was joined by consuls Henryk Sanecki and Paweł Pytlarczyk, representing the Trade & Investment Section of the Consulate General of the Republic of Poland in New York. Our Credit Union was represented by Ms. Krystyna Myssura, First Vice Chair of the Board of Directors, Ms. Marzena Wierzbowska and Mr. Janusz Sporek – Directors, and members of the Supervisory Committee, Messrs. Paweł Pachacz and Jacek Bąkowski.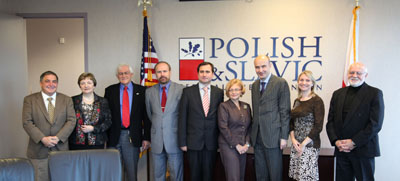 Ministry of Economy representatives with PSFCU management
The meeting began with a brief commentary by minister Korolec on the economic situation in Poland in view of the cooperation with the United States. PSFCU representatives asked the speaker numerous detailed questions, most of which involved issues concerning PSFCU members starting business operations in Poland. The hosts and our guests had different opinions on a number of topics, particularly with regard to raising taxes by the Polish government and attempts at collecting additional taxes from U.S. taxpayers.

"We really want the Polish government to ensure that our members, who decide to stay in Poland for an extended period of time, do not have to face various difficulties and unnecessary red tape," said Ms. Myssura. "Therefore, we appreciate the visit to our Credit Union of Polish government representatives who make key decisions in matters important for PSFCU members."

The meeting concluded with the presentation of PSFCU achievements, particularly those during the last 4 years when our Credit Union managed to increase its assets by 25% despite the prolonged crisis in the sphere of American and world finance.

Go to main navigation