Our Credit Union Reopens
Its Greenpoint Avenue Branch
After mere 10 months of thorough renovation, the oldest branch of the Polish & Slavic Federal Credit Union, located at 140 Greenpoint Avenue, has reopened its doors for business. In addition to the numerous group of local residents, the reopening ceremony was attended by representatives of the sponsoring organizations and numerous other Polish-American institutions, local businesspeople, priests from the two nearby Polish parishes as well as members of PSFCU Board of Directors and Management.
Mr. Bogdan Chmielewski, PSFCU CEO, and Mr. Tomasz Bortnik, Chairman of the Board of Directors gave brief speeches during the ceremony. Following the tradition, Rev. Tadeusz Maciejewski of the Sts. Cyril and Methodius parish and Rev. Marek Sobczak, rector of the St. Stanisław Kostka parish, consecrated the newly reopened branch, wishing its employees and PSFCU members luck and satisfaction with the renovated branch.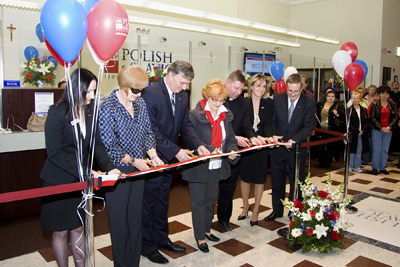 Representatives of PSFCU Management cut the ceremonial ribbon
to symbolically reopen the branch
After branch consecration, the ceremonial ribbon was cut by PSFCU Directors: Irena Marchaj, Krystyna Myssura and Kaja Sawczuk together with Mr. Tomasz Bortnik, Chairman of the Board of Directors. On behalf of the PSFCU employees, they were assisted by Mr. Bogdan Chmielewski, PSFCU CEO, and Ms. Krystyna Figiel, Greenpoint Branch Manager.
The branch located at 140 Greenpoint avenue was PSFCU's first branch and became its official headquarters when the building was purchased from a local bank back in 1981. After the renovation which preserved all its important architectural details, the branch was fitted with seven teller stations and five Member Services representative desks – all situated on 3,600 sq. ft. of utility space.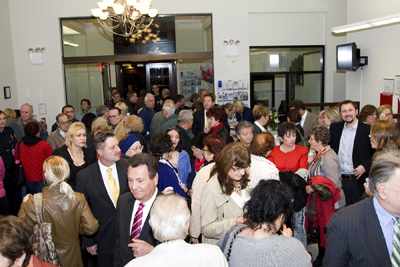 Numerous local residents and invited guests attended the reopening ceremony
The building's interior carefully matches the style of the building following a design by Krzysztof Kozłowski. It is furnished with large UniaTV screens, broadcasting Polish programming, current PSFCU offers and information for our members.
It is worth noting that the branch now offers Safe Deposit Boxes, available in three sizes, which can be leased for safekeeping of financial and personal documents as well as other valuables.
Go to main navigation