"You Vote, You Decide!" Drawing Prizes Awarded
During this year's election to the PSFCU Board of Directors, all members who cast their votes for any candidate were automatically entered in a drawing of two attractive prizes. Credit Union members voting by mail had an opportunity to win a SONY® Bravia LCD TV, while those voting electronically could win a Sony® VAIO laptop computer.
After the completion of the election procedure, Elections.com, an independent company which organized and supervised PSFCU Board elections, drew winners of the two prizes. Messrs. Krzysztof Klimek and Zdzisław Świderski proved to be the lucky voters. It is worth noting that over 10,000 members voted in the 2010 elections which is an absolute record in the history of our Credit Union.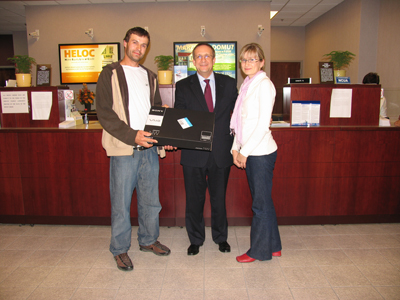 PSFCU CEO, Mr. Bogdan Chmielewski, hands the prize
to Mr. Krzysztof Klimek
Mr. Klimek, who won a laptop computer, received his prize from our CEO, Mr. Bogdan Chmielewski, on November 9 at the PSFCU branch in Linden.
Mr. Świderski, winner in the mail voting category, received his TV-set on November 13 at the Copiague branch in Long Island. The prize was awarded by Ms. Agnieszka Poślednik, Chief Operations Officer and Ms. Małgorzata Leniartek, Copiague Branch Manager.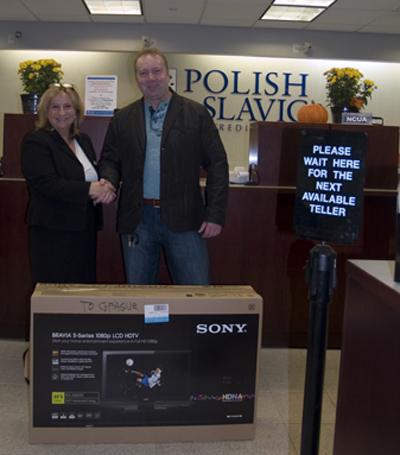 Mr. Zdzisław Świderski receives his prize from
Copiague Branch Manager, Ms. Małgorzata Leniartek
On behalf of employees and volunteers of the Polish & Slavic Federal Credit Union, we wish to congratulate the winners and thank all members who took active part in the elections; we also invite you to cast your votes in future elections.
Go to main navigation