PSFCU Awards Best Marketing Essays
Young Generation Praises Virtual Credit Union
A award ceremony for the PSFCU marketing essay competition was held on Thursday, November 5 at our Credit Union's headquarters located at 100 McGuinness Blvd. in Brooklyn
Aside from the two mandatory essays required in the course of the PSFCU Scholarship Program, this year the Scholarship Committee provided all candidates with an opportunity to write an additional essay on the following subject:
"Write a review of our Internet Banking. Familiarize yourself with the Internet Banking services at www.psfcu.com and assess their level. If possible, compare it with similar services offered by other financial institutions and suggest changes which would improve it."
The essays were to be written in Polish or in English. Authors of the best five submissions received awards in the amount of $500. Nearly 20 students wrote the additional essays offering interesting ideas and solutions.
The meeting with competition winners was attended by the representatives of our Credit Union Management: Ms. Krystyna Myssura, First Deputy Chair of the PSFCU Board of Directors, Ms. Irena Machaj, Treasure, Ms. Kaja Sawczuk, Director and PSFCU Chief Executive, Mr. Bogdan Chmielewski.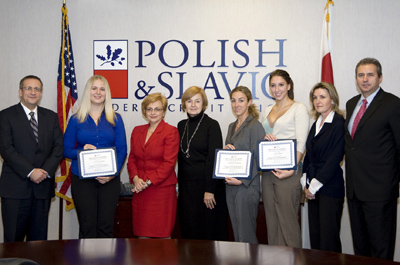 Competition winners pose for a commemorative photograph
with representatives of PSFCU Management
PSFCU Vice President of Marketing, Mr. Marian Ponanta selected essays which contained the best and most interesting improvement suggestions to our Credit Union's Internet Banking. Izabela Blach, Robert Cecot, Katharine Kucharski, Katarzyna Piekło and Łukasz Zbylut submitted most inventive solutions and became winners of this year's edition of the Marketing Essay contest.
In their works, winners unanimously stated that PSFCU Internet Banking page contains the same information as those of other financial institutions but differs inasmuch as it is also the source of information not only about our Credit Union, but also about our community. The students suggested several improvements concerning technological solutions and page layout, meeting with keen interest on the part of the PSFCU Management.
During the ceremony, PSFCU representatives informed our guests that the popularity of our 'virtual' Credit Union is consistently growing; in December 2008, Internet Banking services were used by 17,946 members, while by September 2009 that number grew by 20 percent. It is quite a success given the fact that we are an ethnic institution with a limited member base.
If you have not yet taken advantage of PSFCU Internet Banking, we invite you to get to know our virtual services at www.psfcu.com.
Go to main navigation