Institute of Word Politics Hosts Our Credit Union
Last year, our Credit Union issued a donation to the Kosciuszko Chair of Polish Studies, which was established at the Institute of World Politics in Washington. Similarly to the Columbia University, PSFCU's cooperation with the Institute aims at promoting Poland at prestigious American universities.

The Institute was founded by Dr. John Lenczowski, who in 1980's served as a special advisor at the State Department. He is an author of a number of publications on foreign policy, diplomacy, intelligence strategy and Soviet and Russian affairs. He is also a stern supporter of our Credit Union.

The Kosciuszko Chair of Polish Studies is involved in promoting Polish cultural heritage and also deals with issues in the sphere of politics and economics from the point of view of Polish affairs. Its activities also include promotion of the Polish culture and science as well as presentation of Polish achievements in the US and the world.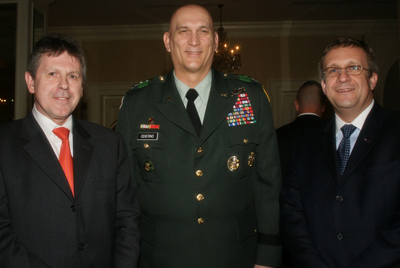 From the left: Krzysztof Matyszczyk, Chairman of the PSFCU's Board
of Directors, General Ray Odierno, Bogdan Chmielewski,
Chief Executive Officer of the PSFCU
On May 12, 2009, the Institute held a very interesting meeting on strategic changes which took place in Iraq over the past few years as a result of the military operations. Mr. Krzysztof Matyszczyk, Chairman of the PSFCU Board of Directors and Mr. Bogdan Chmielewski, PSFCu Chief Executive Officer were invited to that meeting as representatives of our Credit Union.

General Ray Odierno, Commander-in-Chief of the Allied Forces in Iraq was the meeting's keynote speaker. He was accompanied by Admiral Dave Buss and Brigadier General Steven Salazar. The main topic of the discussion was related to stabilizing the general situation in war-torn Iraq.

In the course of a private conversation, General Odierno expressed a favorable opinion about soldiers of the Polish Contingent in Iraq and young Americans with Polish roots serving in the US armed forces, praising their professionalism and personal courage. Our Credit Union representatives informed the general that the forces under his command include a group of young PSFCU members. The general congratulated our Credit Union on having such fine young men among our members.

Go to main navigation