Our Credit Union at Polish Festivals
Polish community festivals present an excellent opportunity to showcase the products and services offered by our Credit Union or to hear our members' opinion about PSFCU. Our Credit Union has always supported such events and gladly takes part in them.
Since the success of a festival depends on the weather conditions, majority of such events take place in spring or summer. This year, the festival season begun on June 1 with the Polish festival in Holmdel, NJ. As every year, PSFCU was one of major sponsors of this event promoting Polish culture and traditions. Characteristic blue polo shirts with PSFCU logo made our employees stand out in the crowd. In a tent especially prepared for the occasion, they distributed our premiums and promotional literature on PSFCU products and services. Crowds of people which passed by our booth gave testament to the huge popularity of our premiums.
Current and future business owners had an opportunity to find out about our CU's business offer and to talk with a representative o Member Business Services.
Just a week after the New Jersey festival, another event took place at the Holy Cross Church in Maspeth. Despite the heat (and a TV broadcast of the Poland-Germany soccer match), fans of the Polish culture arrived to spend a Sunday afternoon in a pleasant atmosphere, listening to Polish music and tasting specialties of the Polish cuisine.
The Maspeth festival was a big event for our Credit Union. On that day, we unveiled a new, mobile branch to our members. The festival marked its official debut. It attracted a lot of interest from the very moment of its opening at noon and during the few hours after it opened its doors, our Credit Union gained several new members who complimented us on our new branch.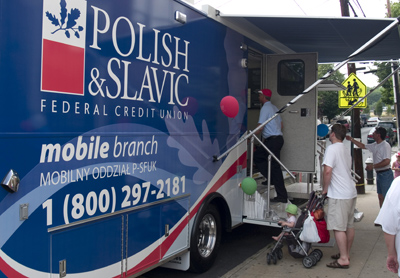 Members using the mobile branch at the Maspeth Festival
Another Polish event took place in Copiaque, Long Island on June 22. Happy faces of the participants and the interest our booth was gaining throughout the festival proved that the event was a huge success for both the organizers and our Credit Union. PSFCU gained a lot of attention thanks to the mobile branch which was offering all the services and products to our Members.

Go to main navigation