High-School Graduates
Receive PSFCU Scholarships
This year's high-school graduates received the PSFCU scholarships during a ceremony held by our Credit Union on May 8th 2008 at the Princess Manor Banquet Hall in Greenpoint, New York. The event was attended by members of the Board of Directors: Chairman Krzysztof Matyszczyk, Elżbieta Baumgartner, a member of the Scholarship Committee, Małgorzata Wądołowski, who also chaired the Scholarship Committee, BOD Treasurer John L. Szałyga, Krystyna Myssura and Kaja Sawczuk, who was also the member of the Scholarship Committee. The Scholarship Committee also included Wojciech Mleczko and Bożena Kajewska-Pielarz. PSFCU CEO Bogdan Chmielewski also attended the ceremony.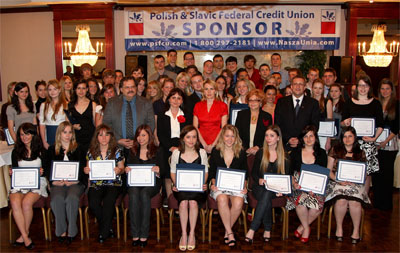 Students with the Board of Directors
Over 70 scholarship recipients personally received their awards from PSFCU Directors. Students arrived at the ceremony accompanied by their parents and teachers. Upon receipt of a scholarship certificate, each recipient had an opportunity to say a few words about the college into which he or she was admitted. These short interviews confirmed that our Credit Union's scholarship recipients are very talented and ambitious.
The PSFCU scholarship program is already 7 years old. To date, our Credit Union has assigned $1.3 million for this purpose. No other Credit Union operating in the US can boast such an ambitious program. PSFCU scholarships are granted o young members in two categories: to high-school seniors who will begin college studies this Fall and to college students.
The scholarship program for high-school seniors is organized under the auspices of the New York State Credit Union League (NYSCUL), while scholarships for college students are awarded as part of PSFCU's own, autonomous program.
This year, PSFCU has assigned $275,000 for scholarships, including $75,000 for scholarships for high-school seniors. Under this program, 112 graduates were awarded: 97 of them received scholarships in the amount of $500 and 15 – in the amount of $1,750.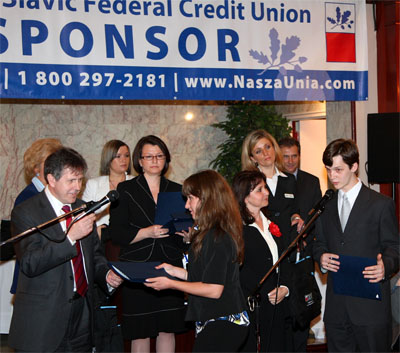 Students receiving scholarships
All persons seeking financial aid from PSFCU must be Credit Union members and primary account holders. Future scholarship recipients are evaluated on the basis of their study results and involvement in extracurricular and social activities. They are also judged on the basis of an essay on a previously assigned subject.
High-school students applying for a scholarship are automatically entered in the scholarship program organized by NYSCUL, participated by 102 other credit unions. Under its program, NYSCU has awarded a total of $13,500 in scholarships for 18 persons. It is always a great honor to those selected.
In the past, only 3 young PSFCU members received NYSCUL scholarships. This year, four of our members received that honor: Katharine Bedkowski, Marta Marciszewska, Przemysław Lasota and Żaneta Wykowska. These persons will receive four scholarships: two $500 ones and two worth $1000 each.
Go to main navigation