PSFCU an "Institution of the Year" at the Pulaski Association Ball
The Pulaski Association of Business and Professional Men has selected the Polish & Slavic Federal Credit Union as an "Institution of the Year." Our Credit Union will be officially honored at the organization's annual ball which will be held on April 12, 2008.

The Pulaski Association has prepared special invitations (photo below) which our Credit Union has mailed out with our March account statements. Ball tickets may be purchased for $125. For reservations, please call 718-383-0083 or 718-383-7211, on Tuesdays, Thursdays and Saturdays, between the hours of 1:PM and 5:PM

The Pulaski Association also cordially invites you to place advertisements in the Commemorative Journal. The ads must be submitted by March 22, 2008.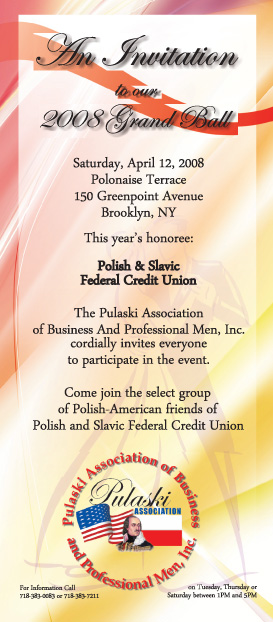 Go to main navigation