PSFCU BEGINS CONSTRUCTION
OF A NEW BRANCH IN MASPETH
Our Credit Union Directors hold a groundbreaking ceremony
for PSFCU's eleventh branch
On Tuesday, October 23, Polish & Slavic Federal Credit Union inaugurated construction of its new, eleventh branch in Maspeth, NY. Credit Union officials held a groundbreaking ceremony with three symbolic gold spades, opening a new chapter in the history of our institution.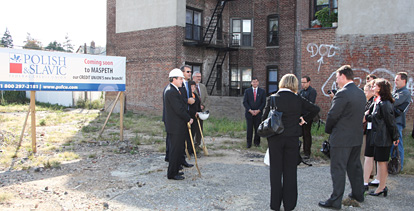 Before the ceremony commenced...
"Our Credit Union wants to be wherever Polish people are and Maspeth, after Greenpoint and Ridgewood, is another center of Polish Americans," – said Mr. Bogdan Chmielewski, PSFCU's Chief Executive Officer. "Let's keep our fingers crossed and hope we 'strike gold'."
The decision to build another branch of our Credit Union was made after a scrupulous analysis of primarily demographic data which unequivocally suggested that opening a branch in Maspeth would be a profitable investment, beneficial to all PSFCU members.
"Currently, Maspeth boasts a strong Polish community," – stressed PSFCU's Chief Operating Officer, Ms. Agnieszka Poslednik. – "It is home to two Polish parish churches and numerous growing Polish businesses. A lot of Poles looking for a home, settle down in Maspeth and its neighboring areas, such as Middle Village. We really do need a branch in Maspeth."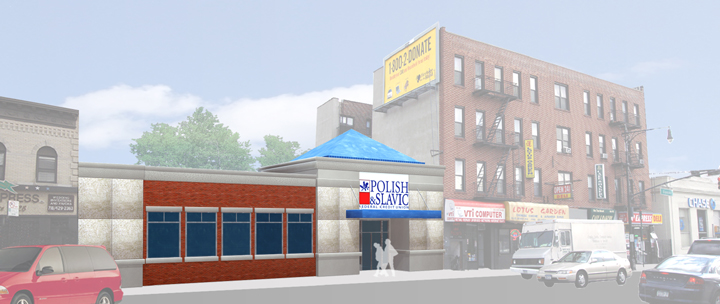 Visualization of PSFCU's new branch in Maspeth
The new branch of our Credit Union will be located at 66-14 Grand Avenue, in the vicinity of the Long Island Expressway and the Brooklyn-Queens Expressway. It was designed by architect Tomasz Rybak. It will be a single story building, constructed predominantly of brick, glass and steel, which will allow it to ideally blend in with the surrounding buildings. Construction will be carried out by "Chester Contracting Corp," owned by Mr. Czesław Konarzewski. The new branch will open for business within the next eight months.

Go to main navigation