The Flag of the Polish Underground Waves over New York
Exactly at "W Hour", August 1 at 11:00 a.m. New York time. the white-and-red flag with an anchor, the symbol of Fighting Poland, was raised on the flagpole in front of headquarters of the Polish & Slavic Federal Credit Union (PSFCU) in Greenpoint. For 63 days it will wave in the New York sky in honor of the participants and victims of the Warsaw Uprising. An identical flag with the symbol of Fighting Poland was raised in front of the PSFCU branch in Bridgeview in the southern suburbs of Chicago.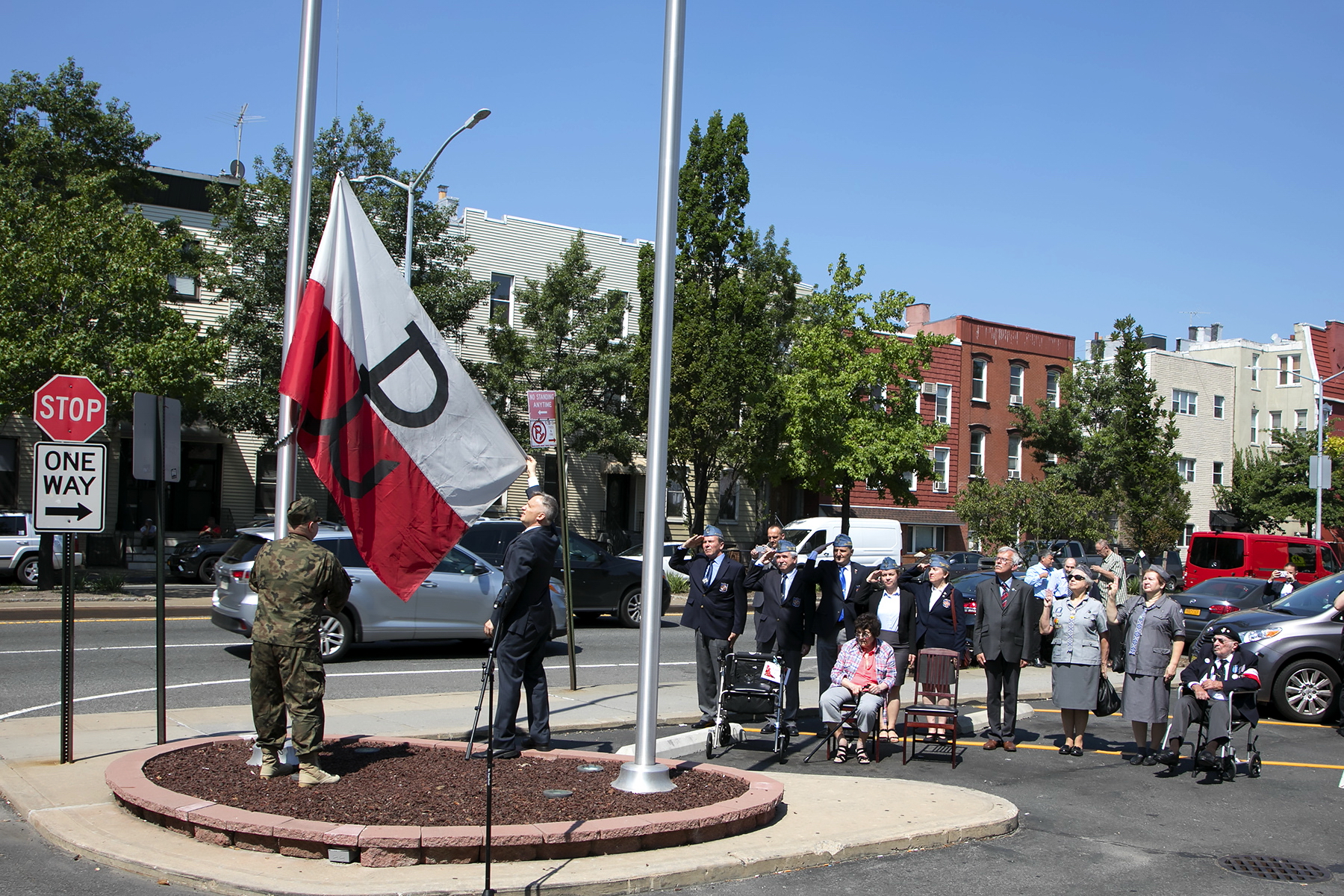 The flag was raised by Tadeusz Antoniak, member of the Polish Army Veterans Association of America (PAVA) and Chairman of the Smolensk Anniversary Observance Committee of Pennsylvania, accompanied by the sounds of fire sirens and the engines of the Harley-Davidson motorcycles driven by riders from the Polish "Unknown Riders" club who came for the ceremony. The attendees included Wladyslaw Mazur, who participated in the Uprising, and Antoni Chroscielewski, the Commander of the New York Post of PAVA, a soldier of Gen. Anders Army and a participant in the Battle of Monte Cassino. Scouts. Also present at the ceremony were scouts, members of PAVA and other Polish community organizations, PSFCU employees and Greenpoint residents.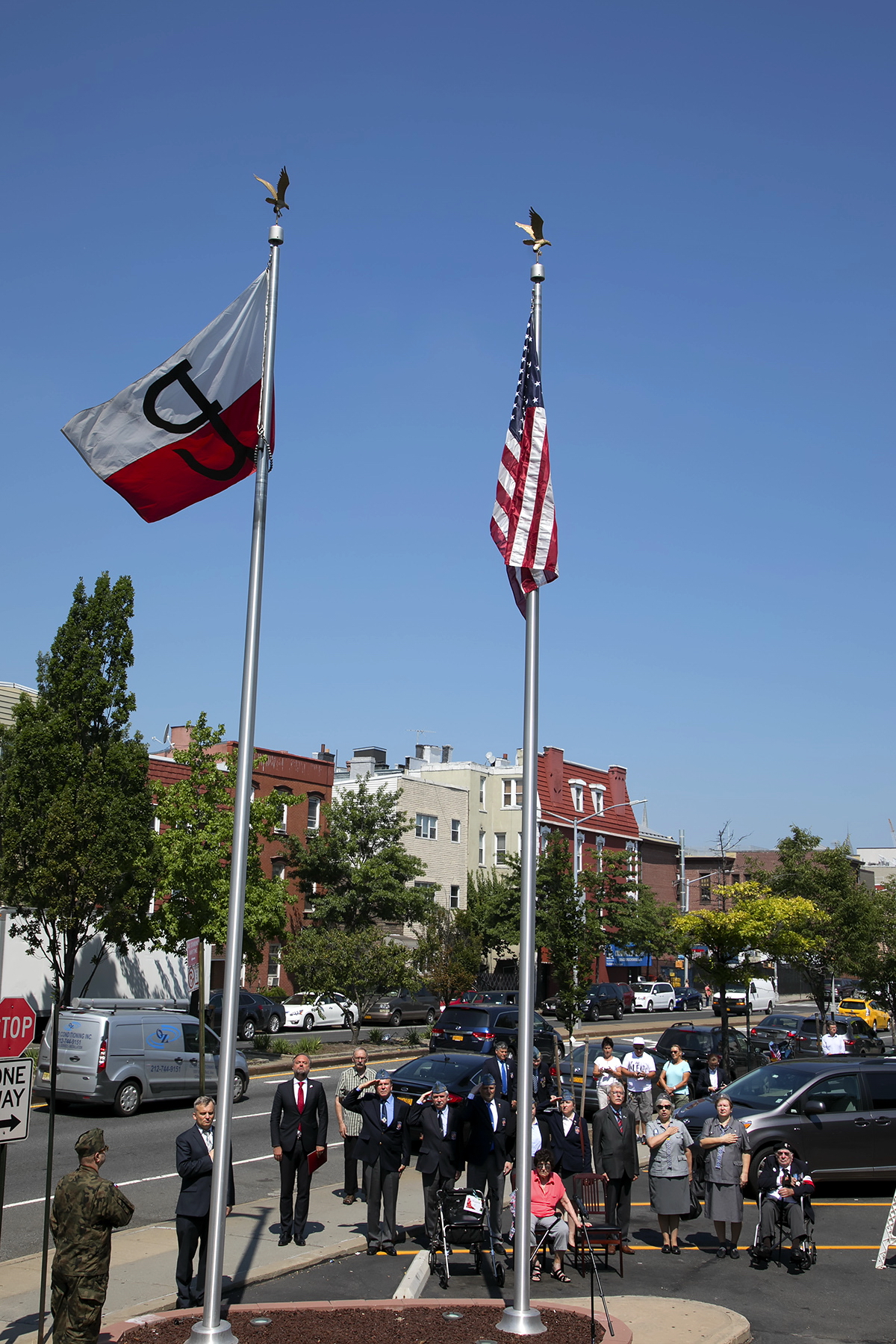 "Seventy-three years ago, Warsaw residents took up arms to achieve their dream of a free Poland," said Bogdan Chmielewski, Chief Executive Officer of the Polish & Slavic Federal Credit Union. Mr. Chmielewski reminded those present that that today Poles, "no matter whether they live in Poland or in emigration, or in Poland" must "learn a lesson" from the events 73 years ago. "First of all, we have to always remember these heroes and our meeting today is doing just that. Secondly, we must draw conclusions from this tragic story: Poles must always be together, united. Thirdly, we can never again allow Poland to be occupied and enslaved," said Chmielewski.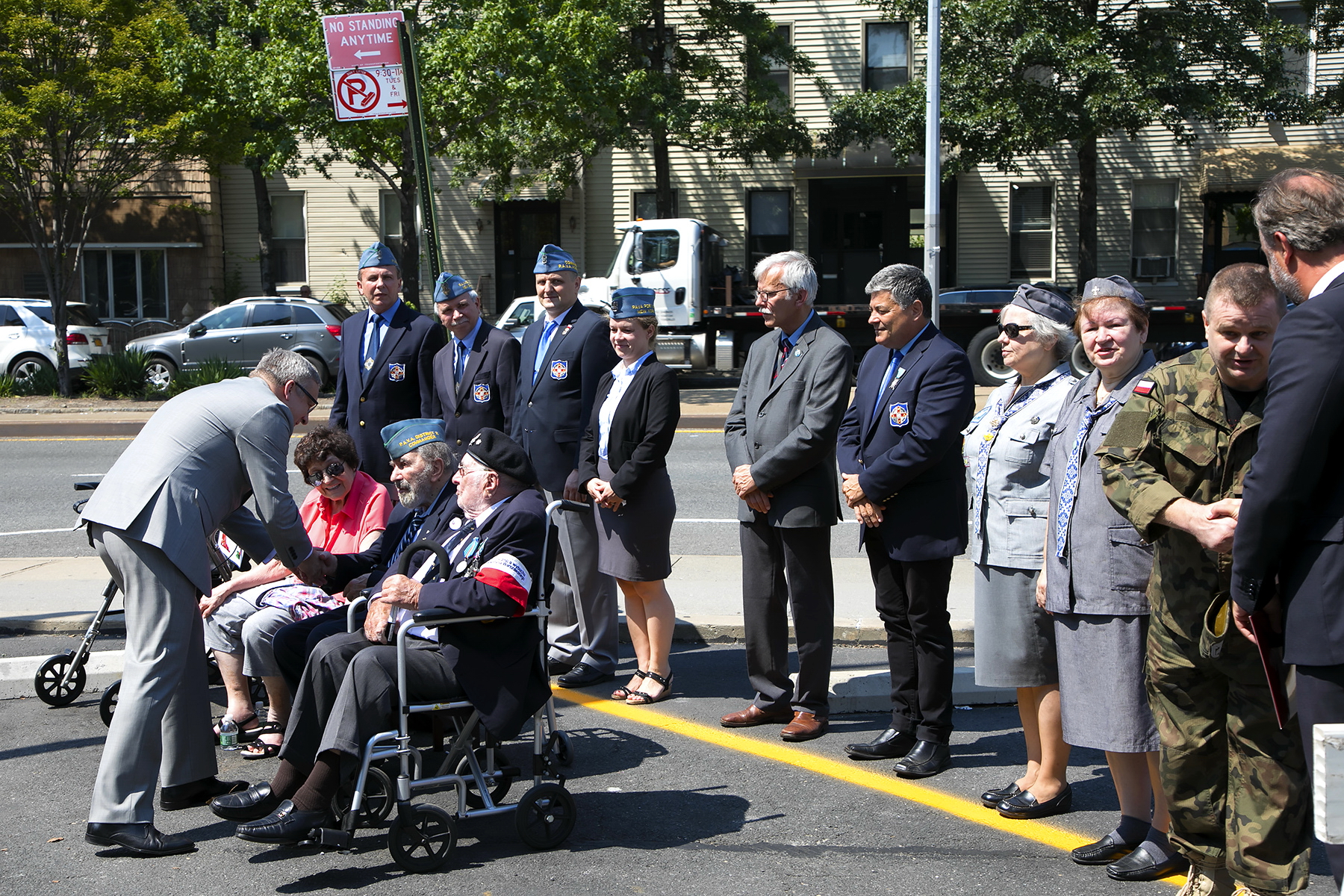 Maciej Golubiewski, Polish Consul General in New York, spoke during the ceremony. "After the war, many of the insurgents went to live abroad, including the United States. One of them was a Commander in the Uprising, Gen. Antoni Chrusciel, code-named "The Fitter", who was buried in the friendly ground of the American Czestochowa, and 44 years later his remains were taken to Poland. After 73 years, few of us participants remain among us. That is why today I would like to pay tribute to all the living and deceased for their fight for freedom and their heroic courage," said Golubiewski.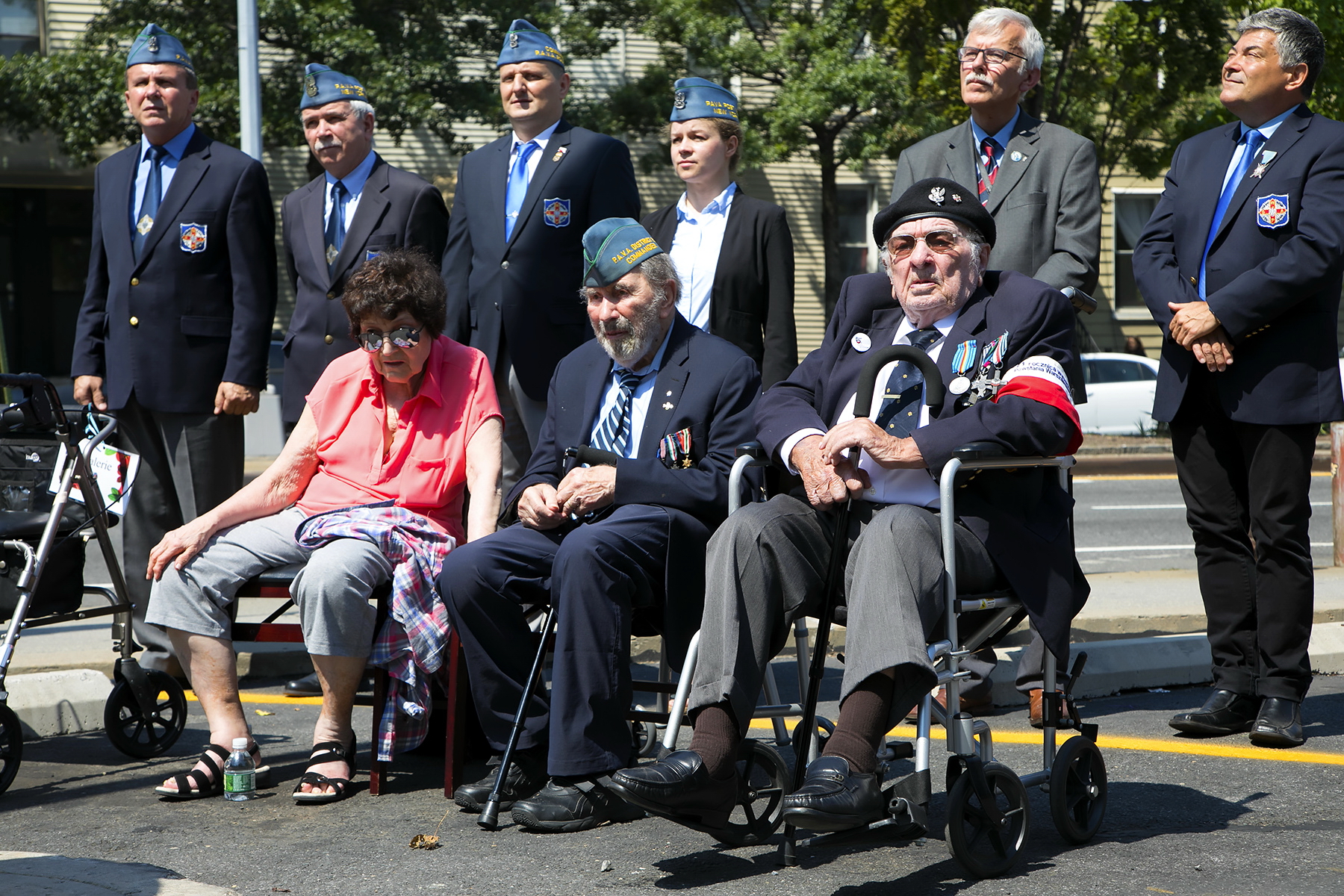 This is the second year in a row that the flag with the symbol of Fighting Poland will be waving in front of the headquarters of the Polish & Slavic Federal Credit Union. Like the flag raised in front of the PSFCU branch in Bridgeview near Chicago, for 63 days it will remind us of the heroism and tragedy of the Warsaw Uprising.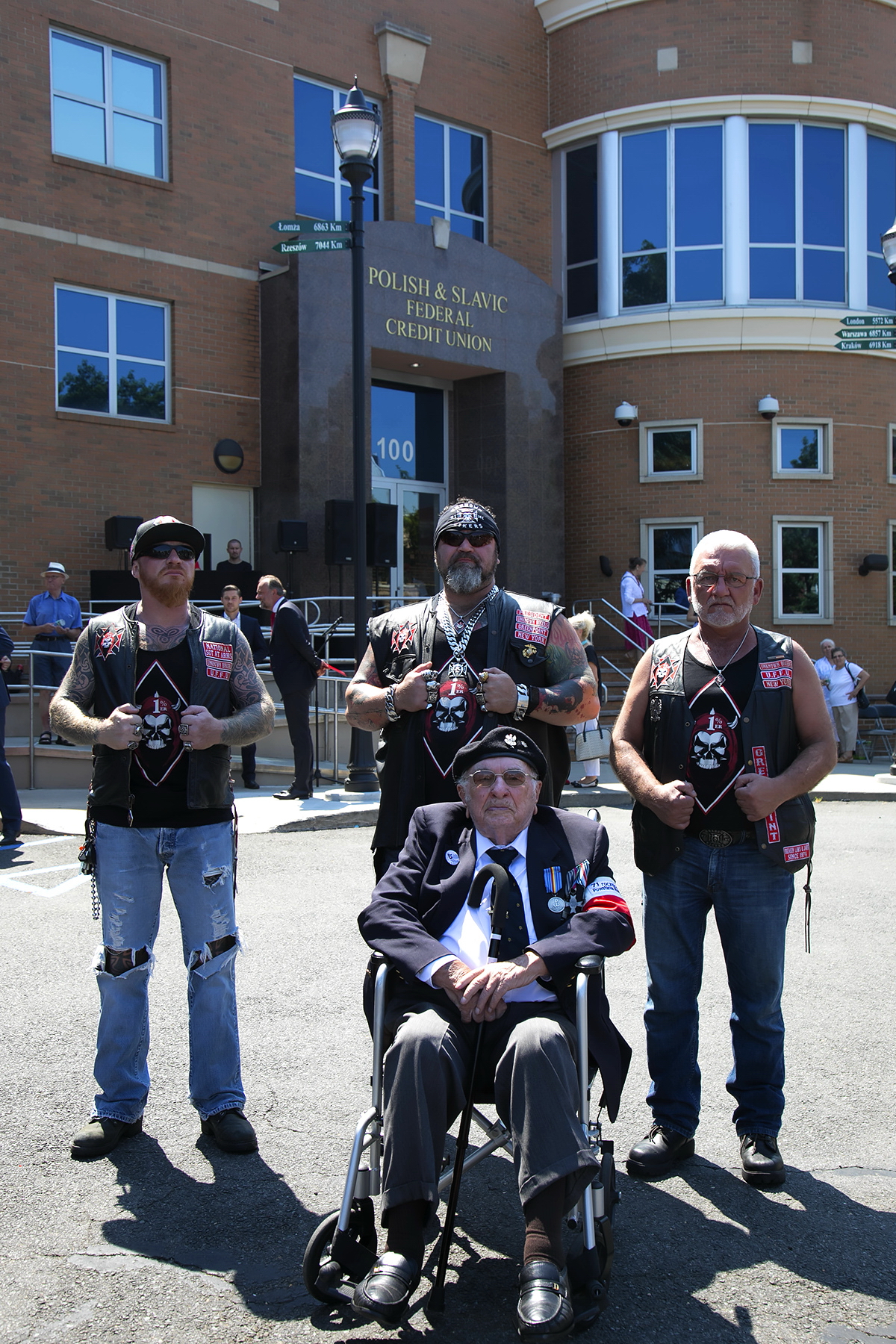 Go to main navigation