E-Statements
Want to check your account statement quickly? Are you concerned about the environment? Start using our E-statements!
You can elect to receive your account statements in an electronic form through our Online Banking site. This service is FREE and as an added benefit we will maintain your statements online for a period of 24 months. Statements can also be printed or downloaded and saved on your PC.
Supply us with your valid e-mail address and we will use it to notify you that your "E-Statement" is available for viewing and download. It is your responsibility to notify PSFCU of any change to your notification e-mail address.
Your cancelled check images are now available through Online Banking as part of your electronic account statement. You can view and verify your cancelled checks online or simply download or print them for your records. This service is yet another convenient electronic innovation we hope that you will use and enjoy. Best of all, it is FREE.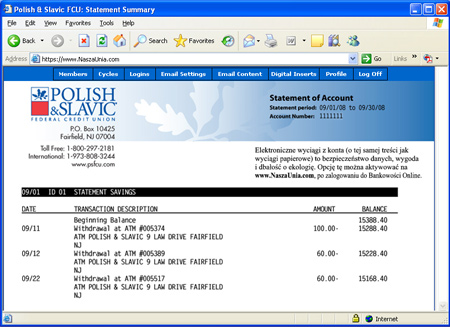 E-Statements are exact copies of the "paper" statements which our Members receive every month. In order to receive them, you need to gain access to the PSFCU Online Banking. To do that, you should call our Member Services Center at 1.855.PSFCU.4U (1.855.773.2848) or contact a Member Services Representative in order to obtain an initial password. After logging into the Online Banking, you can select the option to receive E-Statements.
E-statements: simple, convenient and safe
How to switch to eStatements
More information can be obtained by calling our Member Services Center at 1.855.PSFCU.4U (1.855.773.2848).
Go to main navigation