PSFCU SPONSORS CONTEST
"2006/07: THE YEAR
OF THE POLISH LANGUAGE"
The youngest contestant receives a special prize from our Credit Union.
Our Credit Union sponsored a contest for Polish Supplementary School students as part of the "Year of the Polish Language" celebrations. The final competition took place on Sunday
March 25th at the Polish Cultural Foundation in Clark, NJ.
The Polish Supplementary School Council of America, headed
by Ms. D. Andraka, organized the event. Moreover,
Ms. M. Wadolowska, Ms. K. Myssura, Ms. B. Zawlocka,
Ms. B. Milewski, Ms. R. Kotynski, Ms. M. Fernandes
and Ms. B. Wojdak provided a great deal of help on our Credit
Union's behalf during the competition.
The finalists attended the event in great numbers from five states:
New Jersey, New York, Connecticut, Pennsylvania
and Massachusetts. They exercised their abilities in the following thematic contests: "My Favorite Poem" (grades 0-3), "Polish Tales, Fairy Tales and Legends: a Repository of Extraordinary Stories" (grades 4-6), "Polish Language Knowledge" (grades 7-8),
"The Polish Language Knowledge Tournament" (grades 9-11)
and "Singing Poetry" (grades 9-11).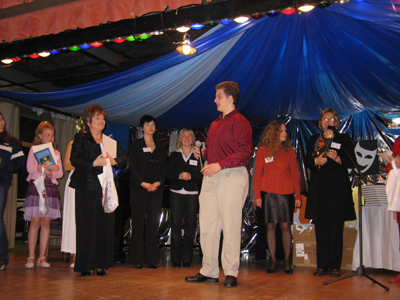 The Finalists on a stage
Each of the over one hundred and forty contestants received a present from our Credit Union, and the youngest one, four-year old Eryk Bielski, a pupil of the Saturday School of Polish Language and Culture in Bridgeport, CT, was awarded a special Credit Union prize
of $150.00, presented to him by Ms. M. Wadolowska, Secretary
of the Board of Directors.
Congratulations to the winners. We are very proud of them all!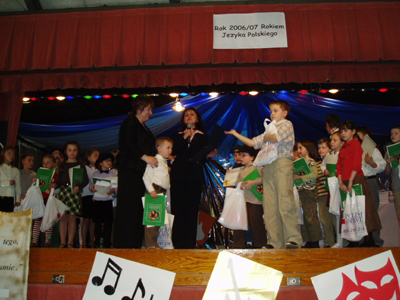 Małgorzata Wądołowska and the prizewinners
Go to main navigation