PSFCU Credit/Debit Card Promotion Award Ceremony
Our promotion lasted from November, 1 to December, 31 2013. Each time an eligible member used his/her PSFCU VISA® debit card or PSFCU VISA® credit card for a signature-based purchase transaction he/she entered in the drawing allowing for multiple entries. There were more than 520,000 transactions during the promotion.
In a prize-drawing supervised by PSFCU Audit and Compliance Departments 50 winners were drawn. PSFCU Credit/Debit Card Promotion Award Ceremony took place on February, 4 at PSFCU Headquarters @Greenpoint. PSFCU CEO Mr. Bogdan Chmielewski. "I would like to thank you all for participating in our promotion, using our services, and promoting Our Credit Union among your relatives and friends. Please, continue to do it also in the future" Mr. Chmielewski said.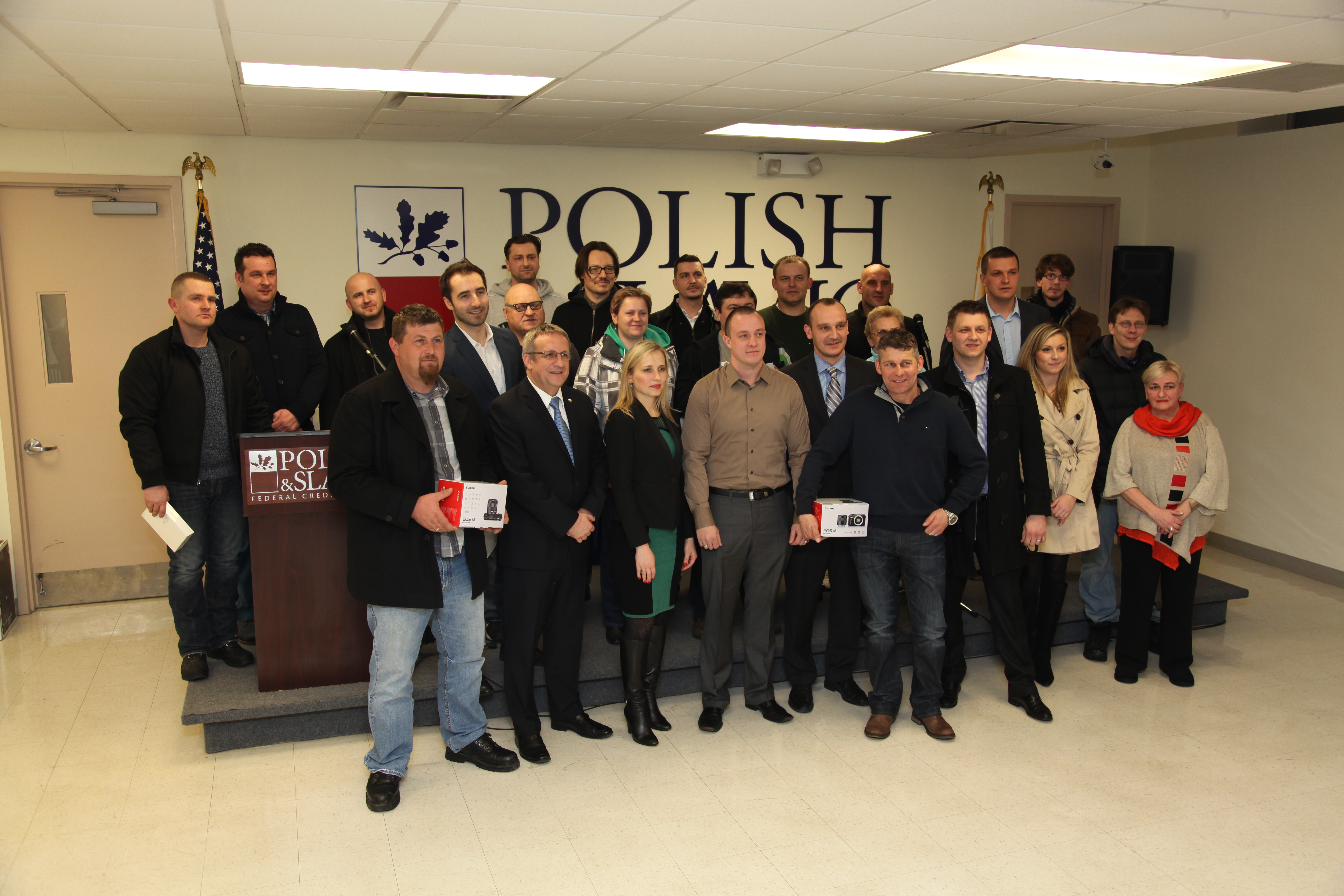 The list of the winners who took their prizes during Tuesday's ceremony:
80" tv Sharp Aquos, the main prize:
Mr. Artur Szurgot
Four 60" tv Sony Bravia:
Mr. Kamil Gogolewski
Mr. Walter R. Kaminski
Ms. Agnieszka U. Polita
Ms. Sylwia Majewski
One 64GB Apple iPad:
Mr. Marcin Dabkowski
Five Home Theater Systems Sony:
Mr. Mikolaj Mika
Ms. Monika Nowakowska
Mr. Piotr Tolpa
Mr. Dariusz R. Bachta
Mr. Lukasz Bielawski
Six Canon EOS Digital Cameras:
Mr. Bennett J. Wisniewski
Mr. Marek Rorata
Mr. Rafal Kuznia
Ms. Teresa Krzeslak Galeski
Mr. Henryk Czerwinski
Mr. Szczepan Malecki
Four Apple iPad Minis:
Mr. Marian Kopiczko
Mr. Marian Wlodkowski
Mr. Marian Gorski
Ms. Magdalena Murawska
All other 29 winners were contacted and prizes will be delivered to them.
Go to main navigation