NCUA Board Member Fryzel Highlights Successes during Polish American Heritage Month

As part of national efforts recognizing Polish American Heritage Month, National Credit Union Administration Board Member Michael E. Fryzel acknowledged the important contributions that Polish Americans have made and highlighted the work of credit unions with historic ties to Polish American communities.

"Throughout the country you will find vibrant Polish communities that are the embodiment of the American Dream of boundless opportunity," Fryzel said. "Polish Americans have made enormous contributions in building our country, starting businesses, adding to our national prosperity, defending our liberty during times of conflict, and shaping our nation's cultural and scientific communities. Their contributions have enriched us all and have helped us become a more perfect and just union."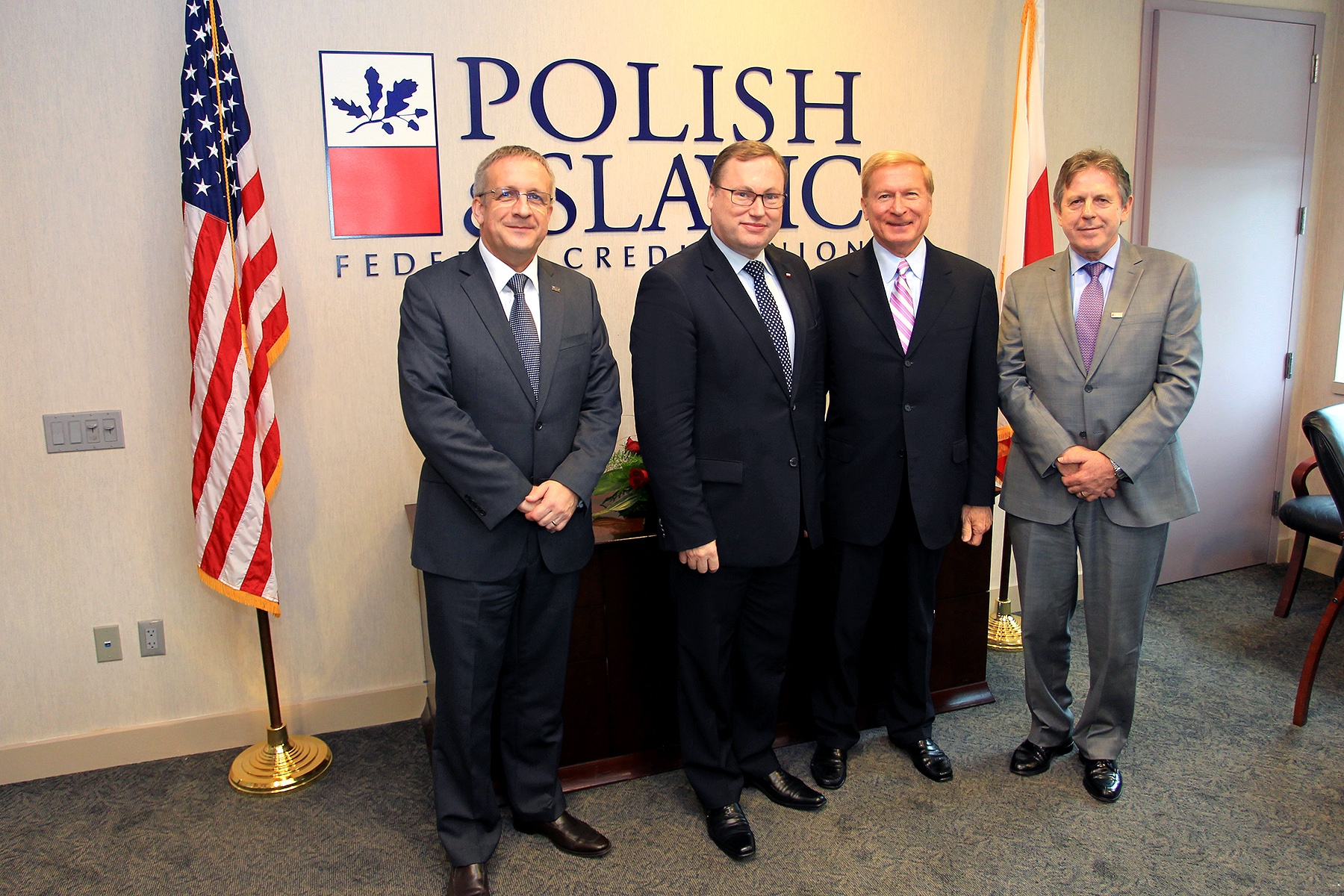 (From left) Mr. Bogdan Chmielewski, Mr. Grzegorz Bierecki, Mr. Michael Fryzel
and Mr. Krzysztof Matyszczyk

Fryzel also noted the important contributions ethnic credit unions have made in providing financial services to hardworking families, in addition to building Polish communities.

"As the first NCUA Chairman of Polish descent, I'm especially proud of the role credit unions have played in supporting Polish communities across this country," Fryzel added. "For nearly a century, Polish credit unions have provided loans and financial services to individuals and member-owned businesses, often when no else would. They are, in my opinion, the quintessence of the credit union mission of people helping people."
"We are thankful to Mr. Fryzel for acknowledging great contribution of Polish-Americans and their credit unions to prosperity of the United States" Polish & Slavic Federal Credit Union CEO Bogdan Chmielewski said. "P&SFCU is a part of this heritage. We have served more than 100 thousand members since 1976, and have become the largest ethnic credit union in the United States."

Polish American Heritage Month is recognized each October, and raises awareness about Polish history, culture, pride, and the important contributions that Polish Americans have made to the history of the United States. Held on every first Sunday in October, New York's Pulaski Day Parade is a major part of the festivities during Polish American Heritage Month. Polish & Slavic Federal Credit Union was the main sponsor of the event, and has been a proud supporter for many years. P&SFCU was especially honored to host Mr. Fryzel as the Honorary Marshal of this year's parade.
www.ncua.gov/News/Pages/NW20131023Fryzel.aspx
---
Go to main navigation