PSFCU's Fight Against Cancer: The PSFCU Hosts Cancer Screening Sessions
On May 10, 2013 Polish & Slavic Federal Credit Union together with American Cancer Society and
American Italian Cancer Foundation offered New York City residents yet another complimentary cancer screening session. It was the 4th screening of this kind organized by the PSFCU this year and it took place at the Credit Union's branch in Maspeth, NY.

The screening consisted of mammography for women aged 40-64, colorectal cancer tests for persons over 50 and cervical cancer referrals to doctors participating in the program.Multi-Diagnostic Services personnel assisted patients inside the American Cancer Society bus. The screening began at 9am and ended about 5pm.

Twenty-two women took advantage of mammogram screenings, all women received referrals for cervical cancer screenings, clinical breasts exams, and everyone interested received colorectal cancer screening kits. Information about up-coming cancer screenings will be available soon both on our website and on our facebook page.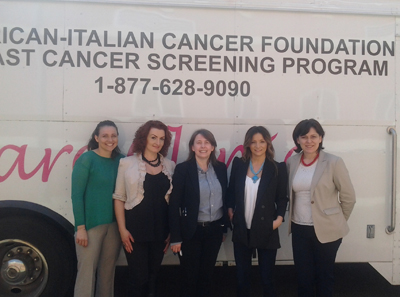 PSFCU employees volunteer at the cancer screenings
The PSFCU donated space, interpreters and coordinated the entire endeavor. PSFCU employees, as members of the American Cancer Society, also offered home-made pastries in exchange for the donations for Relay for Life –fundraising to fight cancer. PSFCU members visiting the branch were drawn by the stands decorated with Relay's balloons and signature purple ribbons.

Many people declared their participation in the final event that will take place in Juniper Park in Middle Village, NY, a neighborhood next to Maspeth, on June 22nd, 2013. A grand finale of the action will also take place in New Jersey where PSFCU employees will participate in Clark's Relay For Life on June 14, 2013.

The all-night event will be filled with numerous games, contests aimed at raising awareness about cancer, encouraging people to take care of their health and support the organization that, among other things, offers free cancer screening programs.

Go to main navigation