Free cancer screenings at PSFCU
Aside from offering complex financial services to the Polish-American community, Polish & Slavic Federal Credit Union is also involved in numerous community initiatives, for example offering free medical screenings to PSFCU members and local communities.
On March 23, 2013, in cooperation with the American Cancer Society, PSFCU provided free cancer screenings to our members and other New York State residents at our branch in Maspeth. This was the eighth medical screening session organized by PSFCU, but the first one involving cancer screenings.
The sign-up list filled up within one week after the information about the screeningwas released. For that reason, we have decided to hold an additional session on April 13. PSFCU closed its parking lot for the huge American Cancer Society bus, equipped with specialized medical equipment, where the screenings were being conducted. We also made our facilities available for this event and provided our members with Polish language materials and the services of an interpreter.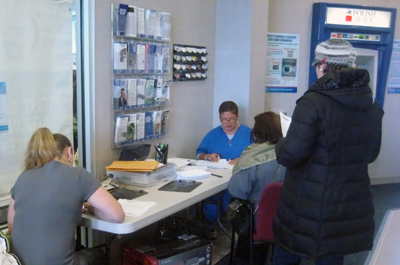 The screenings included mammography for women aged 40-64, colorectal cancer tests for persons aged 50 and above and referrals for cervical cancer tests to physicians participating in the program. A mammography test on average took only a few minutes.
"I have come here today for the first, but definitely not the last time. Such screeningsare usually very expensive, so I am very happy that the Credit Union offers such programs for free; that is what separates it from a mere bank" – said Ms. Urszula Szmuc, who took the opportunity to test her health. Numerous persons admitted that if not for the free screenings, they would not visit a doctor in the near future.
The screenings, which began at 9:00 AM, ended at approximately 5:00 PM. 62 women had a mammography test and 46 colorectal cancer test kits were provided. American Cancer Society employees praised our Credit Union for the excellent organization of the event and thanked us for our cooperation. The next screening session will be held on April 13.

Go to main navigation