Hurricane Sandy Recovery Update
November 5, 2012
Dear PSFCU Members,
We are aware many of you have been adversely affected by hurricane Sandy. We do sincerely hope all of you and your families are safe and secure.
Unfortunately, our Credit Union has also been affected by the destructive force of the hurricane. Widespread power outages have also severely hampered our efforts to provide PSFCU members with everyday services during the past week. During that time, our employees worked hard to bring our branches on line as quickly as possible.
As of today, November 5, 2012, we are pleased to announce that all New York and New Jersey branches are open – the Garfield branch is still without power, but we have deployed our Mobile Branch to provide services to our members at that location. Please be advised that the Bayonne branch will be open from 11:00 AM until 7:00 PM today. We also encourage our members to take advantage of our Online and Mobile Banking services whenever feasible.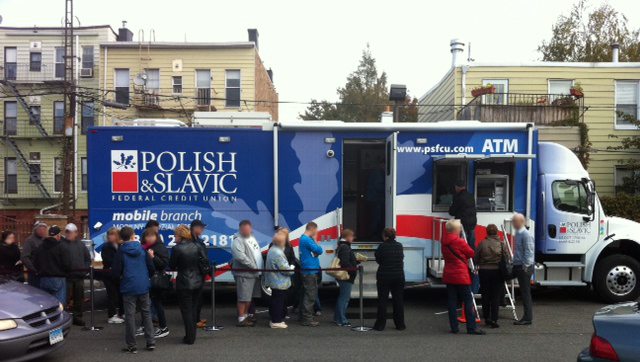 Mobile Branch in Sandy aftermath
We do understand that the branch closings in the aftermath of the hurricane have added inconvenience to an already difficult situation. Therefore, we will waive fees accrued during this emergency resulting from: non-sufficient funds (NSF), return of a deposited check (NGC), auto transfer of funds, Intell-a-check. We will also waive late payment fees on consumer loans and HELOC's, which might have accrued during this period.
We want you to be assured that we will continue to do everything in our power to assist you in the recovery efforts. If there still is no power in your area and you need to charge your phone or a laptop computer, please feel free to visit one of our branches. Special area has been designated at the Clifton branch for neighborhood children who might need electricity to complete their homework assignments. We have also started collecting necessary non-perishable items: batteries, blankets, pillows, warm clothing and outerwear, as well as personal hygiene products: toothpaste, toothbrushes, deodorant and other personal hygiene items for the hurricane victims in our community. If you can donate any such items – new and unused – bring them to any PSFCU branch located in New York or New Jersey. Please continue to monitor our website for additional announcements, as they are being updated on a regular basis.
Sincerely,
Polish & Slavic Federal Credit Union
Go to main navigation