PSFCU won a prestigious Golden Mirrors Award

In August 2011, PSFCU won a prestigious Golden Mirrors Award in a nationwide annual marketing contest organized by CUES (Credit Union Executives Society). All leading US credit unions participated in the competition – winning entries can be viewed at: http://cuesgma.org/. In mid-September, the coveted trophy was sent to Mr. Mielczarek, PSFCU's President and CEO, who then presented it to the Marketing Department.
PSFCU won its award in the "Membership Kits" category. The winning entry was the PSFCU Welcome Brochure, which is presented at https://pl.psfcu.com/files/pslavic/1/file/forwerb2.pdf and can be obtained at any branch. Currently, the brochure is given to every new Member at account opening and is also distributed during various festivals
and special events.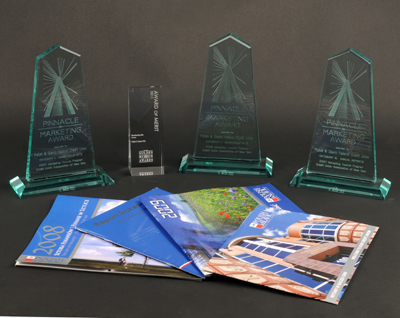 In addition to the current award, PSFCU has won 3 other marketing awards, in a state-wide competition organized by CUANY (Credit Union Association of NY). Our marketing materials were deemed the best in the "Annual Reports" category in 2007, and also in the "Membership Kits" category in 2008 and 2009 – both winning entries were our
annual Calendars.
All PSFCU marketing materials are produced bi-lingually, while most of the competing entries were "English-only", which must have presented an additional measure of challenge for the competitions' jurors.
September 22, 2011
Go to main navigation