Bridgeview Grand Opening Promotional Prize Drawing
The Bridgeview Grand Opening Promotional Prize Drawing award ceremony took place on June 27, 2011, at the PSFCU Norridge branch.

Drawing participants had an opportunity to win one of three available attractive prizes: Mr. Janusz Buczek won the 46" SONY® Bravia LCD TV set, an Apple IPad was won by Ms. Maria Mojek while Garmin® Nüvi GPS receiver was won by Ms. Bogumila Perek.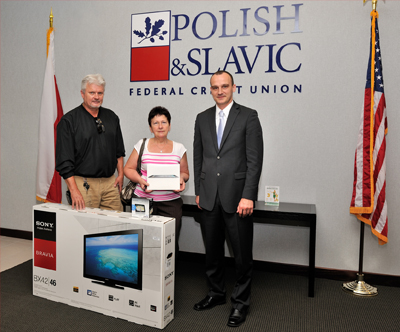 Mr. Janusz Buczek and Mrs. Maria Mojak with Zbigniew Rogalski from PSFCU
"When I received a phone call from Our Credit Union informing me about the prize, I thought it was a joke. I opened an account not even thinking about the promotion, so that's why I was even more surprised," Mr. Janusz Buczek said. "Our Credit Union is a new institution on the Chicago market and I'm very glad that they care of their Members' satisfaction so much. I will surely take advantage of its offer and I will gladly refer its products and services," Mr. Buczek added.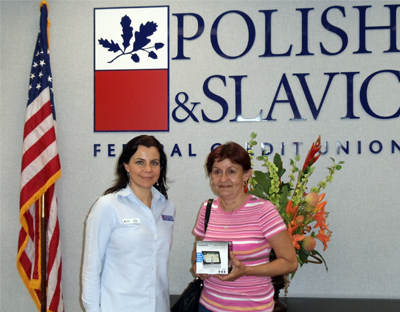 Mrs. Bogumiła Perek with Assistant Branch Manager in Mt. Prospect
The prize drawing was open to all PSFCU members. Members who opened a checking account in one of PSFCU branches in Illinois (Bridgeview, Mt. Prospect and Norridge) between 5th and 31st of May, 2011 were automatically entered in the drawing, while all other PSFCU members were able to participate by filling out special entry forms at each of the three Illinois branches.
Go to main navigation