Our Credit Union Rewards Talented Youth
On May 12, the PSFCU Community Room located at 100 McGuinness Blvd filled with young, ambitious students, their parents and teachers. On that day, an awards ceremony was held for two programs sponsored by our Credit Union: "Credit Union for Students" and "Astronomy Adventure with Copernicus."

Invited guests included distinguished representatives of the Polish Supplementary School Council of America with our guest of honor, PSSCA Chairwoman Dorota Andraka, Polish supplementary school headmasters as well as journalists representing the most popular Polish media in New York. Our Credit Union was represented by members of the PSFCU Board of Directors: 1st Vice-Chair, Ms. Krystyna Myssura and Ms. Kaya Sawczuk, as well as by attending credit union employees. The meeting was also attended by Mr. Tomasz Kwiatkowski, McGuinness Branch Manager, who kept his branch open longer than usual to allow participants to make a deposit or open an account after the ceremony.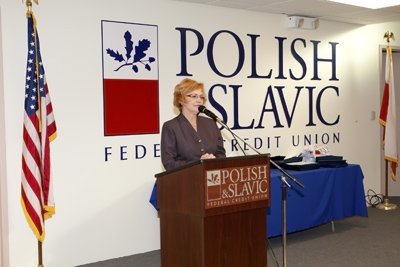 Ms. Krystyna Myssura, 1st Vice-Chair
of the PSFCU Board of Directors
The ceremony marked the fifth time our Credit Union showed its appreciation to the talented Polish youth, rewarding their efforts with attractive awards. Both contests were organized in close cooperation with the Polish Supplementary School Council of America.
Under the "Credit Union for the Students" program, PSFCU rewarded 62 children who attained exemplary study results during the 2010/2011 school year and demonstrated active involvement in the life of their school. Winners were selected by each school and received from PSFCU an award in the amount of $100 each, deposited to their PSFCU accounts. The "Credit Union for Students" program was founded in 2007. Thus far, 245 students were rewarded in the course of the program, with 38 schools participating in this year's edition.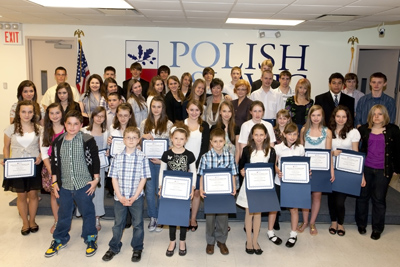 Commemorative photo with the winners of both programs
Thanks to the "Astronomy Adventure with Copernicus" contest, 10 young Credit Union members will spend a week at the Kopernik Observatory in Vestal, NY courtesy of our Credit Union. Finalists were selected based on the evaluation of their essays entitled "How can the Example of Nicholas Copernicus and the Financial Support of our Credit Union Help You to Become a Scientist?" At the Observatory, they will study Solar system planets and their moons, analyze the latest discoveries, research the possibilities of deep space missions and the use of robots, as well as participate in an astral photography session using a telescope and other equipment. Other attractions are planned as well. This is also the fifth edition of the program; to date, PSFCU has rewarded 90 children and contributed $83,000 towards this goal.

The award ceremony was enhanced by performances of talented students: Maciej Zielonka from the Cyril & Methodius school in Brooklyn, NY, Alexander Mróz from the John Paul II School of Polish Language and Culture in Maspeth, NY and Nikol Pastwa from. H. Sienkiewicz School in Brooklyn, NY each performed songs during the event.
Go to main navigation