Polish & Slavic Federal Credit Union Opens
Its Third Chicago Area Branch In The Past 15 Months

NATION'S LARGEST ETHNIC CREDIT UNION
IS BULLISH ON CHICAGO

Chicago, IL (May 16, 2011) – Following the success of its first two Chicago area branches in the neighboring communities of Mt. Prospect and Norridge that debuted last year, the PSFCU has just cut the ribbon on its new 6,000-square-foot branch in the predominantly Polish community of Bridgeview, just outside the city's southern edge.
The recent "breezing into the Windy City" concludes the credit union's ambitious series of six branch openings since 2008. The latest addition provides the largest ethnic credit union in the U.S. with a presence in three states and a network of 15 modern branches.
Michael Fryzel, former chairman and currently a board member of the National Credit Union Administration, was present at the ribbon-cutting ceremony in Bridgeview on May 5th, 2011, as he was for the openings of the Mt. Prospect and Norridge branches a year ago.
"It was an honor to be able to commemorate this day with the Polish & Slavic Federal Credit Union and share in their grand opening celebration," said Mr. Fryzel. "Polish & Slavic clearly understand their membership and provide services that are catered to their demographics. They have continued to provide quality services and branch out into new areas to reach those that qualify for membership. Their continued community involvement reiterates the credit union motto and serves as an example to all credit unions."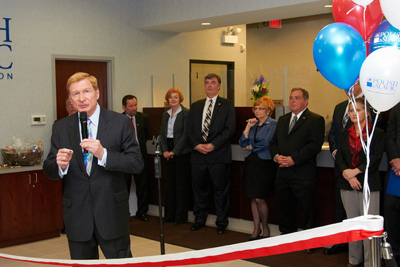 Michael Fryzel at the new PSFCU's branch opening in Bridgeview, IL
Two days later, Mr. Fyzel, who is the first Polish-American to serve on the NCUA Board, marched with PSFCU in the Polish Constitution Day Parade, which honors the historic Polish Constitution of 1791 – the first democratic constitution in Europe and second in the world only to the United States. With tens of thousands of people lining the parade route along Chicago's Columbus Drive, it is also the largest celebration of Polish pride in the Midwest area. Most participants of the parade are potential PSFCU members.
The $1.4 billion PSFCU, where Polish-Americans constitute a vast majority, saw the promise of opening a third branch in Chicago after witnessing the rapid growth of its first two suburban branches. Since opening in early 2010, the Mt. Prospect and Norridge branches have attracted more than 3,200 members and almost $50 million in deposits.
A growing number of Polish Highlanders, who reside in and around Bridgeview, began lobbying the PSFCU for an expansion in the area once it had entered the Chicago market. With more than 150,000 additional Polish-Americans living within a 25-mile radius of Bridgeview, the decision to build a 15th branch was easy.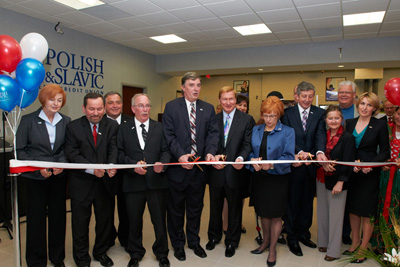 Ribbon cutting: From the left: Irena Marchaj (PSFCU),Wojciech Mleczko,(PSFCU), Pawel Pachacz (PSFCU), Ira Brief (PSFCU), Tomasz Bortnik (PSFCU), Michael Fryzel (NCUA), Krystyna Myssura (PSFCU), Edward Pierwola (PSFCU), Elzbieta Baumgartner (PSFCU), Ron Cullen (Illinois Credit Union League), Kaja Sawczuk (BOD)
"Our credit union will provide a financial backbone to the local communities," said Mr. Oskar Mielczarek, the credit union's recently elected CEO. "Our presence will certainly benefit local organizations as well as various local businesses, just as it has in other towns and cities in which we have built branches. PSFCU's expansion continues to present us with a unique opportunity to unite our ethnic group, to further Polonia's financial ambitions, and to serve our members across many geographies."
Each year, approximately 150 Polish-American organizations receive assistance from the PSFCU. In total, more than $1 million is devoted to community support annually, including $300,000 that is spent on a much-needed scholarship program.
"We have been serving the Polish-American community for 35 years," said Tomasz Bortnik, PhD, chairman of PSFCU's board of directors. "We started in Greenpoint, Brooklyn, where we purchased our first building in 1978. Growth was our goal from day one and it was our ambition to open new branches in all major Polish areas. After 11 years, we crossed the New York State boundary and started working in New Jersey. In 2010, we started offering our services in yet another state - Illinois. And we intend to grow even further, despite what is going on in the US financial sector."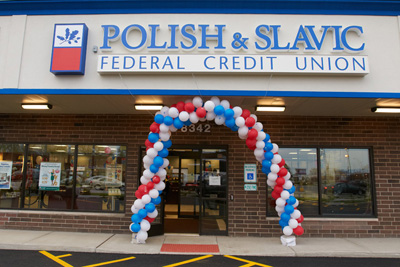 New PSFCU Branch in Bridgeview, IL
Go to main navigation