Our Credit Union Welcomes Its New CEO
(Brooklyn, May 12th, 2011) -- The Polish & Slavic Federal Credit Union is pleased to announce that, effective May 12, 2011, Mr. Oskar Mielczarek was appointed to the position of President and Chief Executive Officer.
Mr. Mielczarek, a talented and seasoned financial executive, was selected by the Board of Directors for the most senior position at the Credit Union after a thorough selection process.
Mr. Mielczarek brings 16 years of financial expertise to the PSFCU, which he gained at financial institutions such as J.P. Morgan, Merrill Lynch and Barclays Bank. He worked in various capacities at these institutions in North America and Europe. Mr. Mielczarek brings unique leadership and managerial skills to the Credit Union, and has strong ties to the Polish-American community.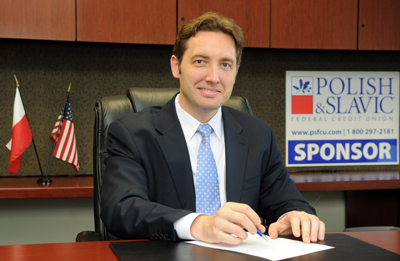 Mr. Oskar Mielczarek, PSFCU President & Chief Executive Officer
Mr. Mielczarek has a master degree in business administration from the Harvard Business School. He also received bachelor degrees in European Business Administration from ICADE University in Madrid, and Middlesex University in London. Mr. Mielczarek is fluent in Polish, English, Spanish and French.
The Board of Directors welcomes Mr. Mielczarek to the Credit Union, entrusting him with the stewardship of the largest ethnic credit union in the country.

Go to main navigation