After a Year in Chicago,
Polish & Slavic Federal Credit Union
Receives Praise and Congratulations
A year after commencing operations in the Chicago metropolitan area, two Polish & Slavic Federal Credit Union in Norridge and Mt. Prospect have already gained 2,700 members and over $42 million in deposits. Our Credit Union celebrated its first anniversary in Chicago on January 29, 2011, with the main event taking stage at the Mt. Prospect branch, located at 1044 Mt. Prospect Plaza.

"Our first year in Chicago was a huge success. We have achieved it thanks to our members who have shown us a lot of trust and friendliness," said Zbigniew Rogalski, PSFCU Vice President and Head of Mid-West District. "We have opened the total of 5,064 accounts; our personal loans portfolio has reached the level of $3.5 million and mortgages reached $15 million. It is important for our members that we are not an ordinary bank but a credit union, which they co-own and which serves the entire Polish community."

Our guests were welcomed by Ms. Małgorzata Wądołowska, member of the PSFCU Board of Directors, and Mr. Ira Brief, acting Chief Executive Officer.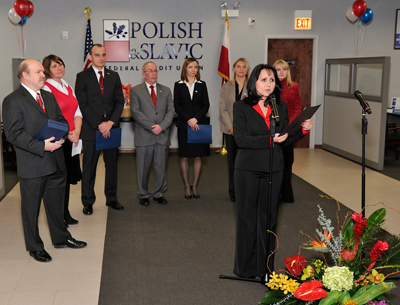 Ms. Malgorzata Wadolowska from PSFCU Board of Directors
"One of the elements of PSFCU strategy is serving the Polish community wherever we are needed and wherever we can achieve financial success," Ms. Wądołowska said. "Our Credit Union's year in Chicago is our common success: the success of our Members, employees and volunteers. It is the success of our sponsoring organization as well as Polish schools, organizations and media, with whom we have established a close cooperation."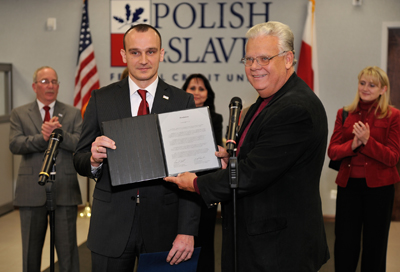 Ron Culen from ICUL is presenting a commemorative proclamation
Ms. Wądołowska also officially announced the opening of the third PSFCU branch in Bridgeview, construction on which will officially begin on February 8, 2011. Mr. Ron Culen from the Illinois Credit Union League took the floor next, presenting Zbigniew Rogalski with a commemorative proclamation, stressing PSFCU's achievements. Similar in tone was the speech of Mr. Tadeusz Czajkowski, Chairman of the Alliance of Polish Clubs in the USA. He presented representatives of PSFCU Management with a commemorative statuette as a token of his appreciation for the support our Credit Union extended to this meritorious organization throughout 2010 which a year ago became our first sponsoring organization in Chicago.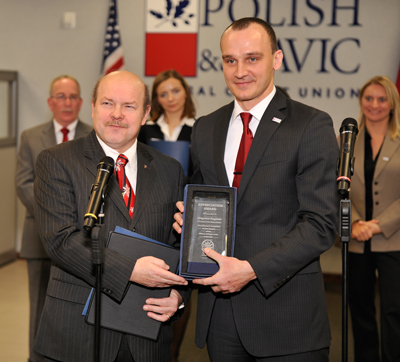 Zbigniew Rogalski with the plaque received from Tadeusz Czajkowski
The ceremony ended with an address by Ms. Ewa Koch, head of the Association of Polish Schools in America, who received from PSFCU a check in the amount of $2,300.

"This money will help ten students who find themselves in difficult financial situation to cover the cost of their education in Polish supplementary schools," Ms. Koch said. "The funds will primarily be provided to those children who already hold PSFCU accounts."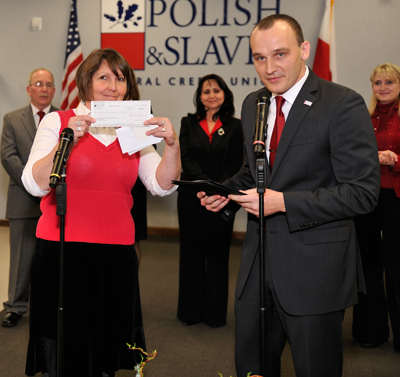 Ewa Koch receiving the check from PSFCU
During the ceremony, our Credit Union was represented by a large group of volunteers and employees: Ms. Marzena Wierzbowska, member of the Board of Directors, Ms. Anna Wojnarowska from the Supervisory Committee, Ms. Edyta Martula, VP/Head of Back Office Operations, Ms. Renata Kumor, VP/Head of Mortgage Lending and Loan Servicing, Ms. Anna Murdzoski, VP/Head of Branch Operations and Mr. Peter Chaber, VP/Head of Research & Development and Business Services.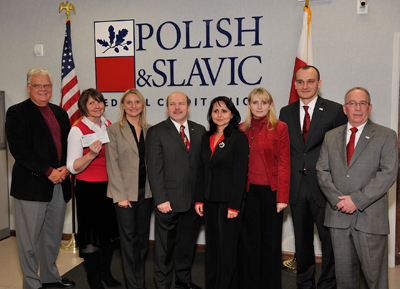 PSFCU Board of Directors and Management with our guests
Refreshments were provided to visitors at both branches and a special prize drawing was held, during which participating PSFCU members had an opportunity to win one of two GPS receivers or one of six gift baskets. In addition, our Credit Union has prepared a month-long promotion, during which members who open a "Premium Account Package" will receive a thermal travel mug, while those who open a VISA® Credit Card account will receive a practical document holder.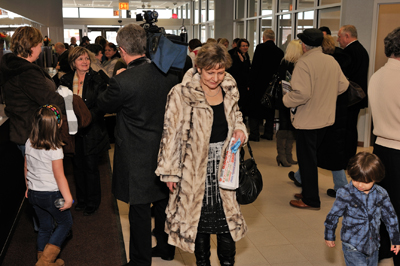 Our Members during the ceremony
Click here to watch video footage of the ceremony.
Go to main navigation