Bigger, More Modern, Better Located...
Our Ridgewood Branch Has a New Location,
Serving Nearly Five Thousand Members
RIDGEWOOD, NY (January 21, 2011) – After years of issues related to the lack of sufficient space for providing everyday services for a large number of clients, the Ridgewood branch of the Polish and Slavic Federal Credit Union has been moved to a spacious building perfectly located at 6903 Fresh Pond Road. The building is located near public transportation, a huge convenience for PSFCU members.The new branch location, with the area of 2,800 square feet, has a very modern interior, carefully designed to provide services for 4.6 thousand members residing in the Ridgewood area. The branch features five teller windows and five Member Services Representative stations.
The new branch was officially opened on Friday, January 21, 2011 during a special ceremony attended by a large number of local residents, management of PSFCU sponsoring organizations, representatives of local parish, businesses as well as members of the PSFCU Board of Directors and Senior Management.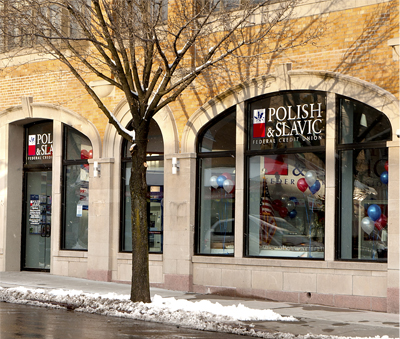 New branch located at Fresh Pond Road in Ridgewood
"When we rented the previous premises back in 2001, we aimed at satisfying the needs of the local Polonia. However, the success of this branch exceeded our most optimistic expectations. I hope that the branch will be even more productive at its new location and that our members will recognize its moving to the new building as a big step forward," said Dr Tomasz Bortnik, Chairman of the PSFCU Board of Directors.
Aside from Dr. Bortnik, the ceremonial ribbon was cut by Ms. Krystyna Myssura (First Deputy Chairman of the PSFCU Board of Directors) and Ms. Irena Marchaj (Treasurer of the Board of Directors), Mr. Paweł Pachacz (Chairman of the PSFCU Supervisory Committee), Ms. Agnieszka Poślednik (Chief Operations Officer), Ms. Agnieszka Duduś (Assistant Branch Manager) and Rev. Władysław Kubrak from the St. Matthias Parish Church in Ridgewood.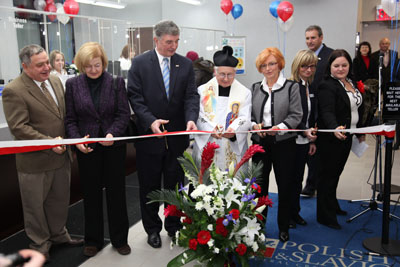 PSFCU Management representatives and father Kubrak
are cutting the symbolic ribbon
While consecrating the branch, Rev. Kubrak said: "We bring a little, save, and they multiply it. If they didn't do it, there would be no new branch, there would be no new other branches which are opened because they do know how to manage this. We have to trust one another, respect one another. We have to choose that which unites us, not that which divides. John Paul II said that the Polonia should always remember its glorious heritage, its historical achievements. Those present here work hard to earn these dollars, but they multiply them and put away their savings, just as I will do right after consecration."
The new branch was complimented by PSFCU members. "I have been a PSFCU member since I arrived in the US back in 1988 because, truthfully, it helped me start my life in America… I got my first credit card here and my wife and daughter also have PSFCU accounts," said Mr. Wojciech Wiszowaty, who attended the opening ceremony. "What I liked from day one was that everything is always done efficiently here. It was like that at the old location and it is the same in the new branch; the only difference is that the interior is more pleasant and spacious."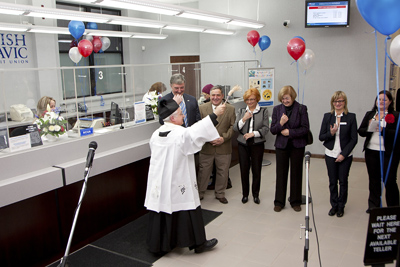 Father Kubrak is consecrating a new branch
Interior remodeling and adaptation was carried out by Nesco Construction in accordance with the designs prepared by architect Krzysztof Kozłowski. The new branch is equipped with large-screen Rate System and UniaTV monitors where, in addition to Polish language programming, viewers can find information about current promotions and events at PSFCU. The new branch opening hours have been extended on Mondays: it now is open from 9:00 AM until 7:00 PM.
Go to main navigation