PSFCU sponsors Studia4U
9/27/10
Studia4U, an informational session about college studies in US, took place on Sunday, September 19, 2010 at the Polish Consulate General in New York. The event, which was made possible, in part, thanks to PSFCU's support, is organized by the Polish Student Organization in New York and the Polonia Technica association. The full-day event drew an audience of approximately 200 people.

During the event, current and prospective students, along with their parents, learned about various aspects of college studies in the United States. Discussed topics included school applications, required examinations, transfers, student visas, internships, and foreign diploma recognition. Representatives of various schools shared information about their colleges and universities. Among major U.S. universities which had their tables at the event were: Columbia, NYU, Massachusetts Institute of Technology, CUNY and SUNY.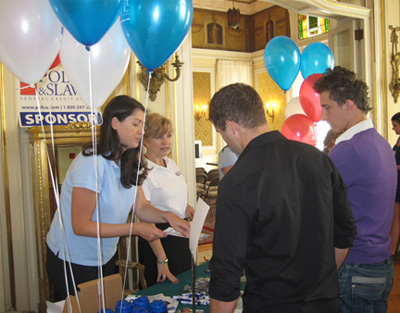 PSFCU's representatives are explaining financial aid for students.
The PSFCU's table at the event, where our representatives provided information about financial aid for students, proved very popular. Majority of questions dealt with student loans and scholarships, while small gifts and informational materials were distributed to event attendees.
19 września 2010
SEPTEMBER 19TH, 2010

10:30 – 14:30 Blok A: Przygotowania do studiów
Preparing for College

10:30 – 10:40
sala lustrzana
PRZYGOTOWANIE JĘZYKOWE – SZKOŁY I KURSY ESL
PRE-COLLEGE ESL COURSES
KATARZYNA KOWALSKA
(PSO)

10:45 – 12:00
sala lustrzana
STRUKTURA STUDIÓW W USA – WPROWADZENIE:
INTRODUCTION TO THE USHIGHER EDUCATION SYSTEM:
ARTUR KOWALSKI (PSO)
- OMÓWIENIE RÓŻNIC W STOSUNKU DO SYSTEMU POLSKIEGO
DIFFERENCES WITH THE POLISH EDUCATIONAL SYSTEM
ARTUR KOWALSKI (PSO)
- PROCES SKŁADANIA PODAŃ (Z USA I Z POLSKI)
COLLEGE APPLICATION PROCESS (US RESIDENTS AND INTERNATIONAL STUDENTS)
ARTUR KOWALSKI (PSO)
- EGZAMINY STANDARDOWE: (TOEFL, GRE, SAT)
STANDARDIZED TESTS
KATARZYNA KOWALSKA
(PSO)

12:05 – 13:05
sala lustrzana
OSZCZĘDZANIE NA STUDIA I ŹRÓDŁA POMOCY FINANSOWEJ.
SAVING FOR COLLEGE; FINANCIAL AID
KATARZYNA KOWALSKA
(PSO)

13:10 – 13:20
sala lustrzana
ORGANIZACJA STUDENTOW POLSKICH - PODSTAWOWE INFORMACJE
POLISH STUDENT ORGANIZATION – BASIC INFO
MARIUSZ KNAP (PSO)

13:25 – 13:40
sala lustrzana.
TRANSFERY MIĘDZY UCZELNIAMI, UZNAWANIE KREDYTÓW Z POPRZEDNICH UCZELNI (W TYM Z POLSKI) ORAZ PRACA W RAMACH STAŻU ZAWODOWEGO PO STUDIACH
TRANSFERRING CREDITS FROM AMERICAN AND POLISH UNIVERSITIES AND OPTIONAL PRACTICAL TRAINING
DARIUSZ BARAN
(PSO, UNIVERSITY OF PITTSBURGH)

13:30 – 14:30
sala lustrzana
WIZY STUDENCKIE, ZMIANA STATUSU ORAZ STUDIA BEZ WIZY
STUDENT VISAS, CHANGING NON-IMMIGRANT STATUS TO F-1, STUDYING WITHOUT A VISA
DARIUSZ BARAN
(PSO, UNIVERSITY OF PITTSBURGH)

14:35 – 15:00
sala lustrzana
PRAKTYKI STUDENCKIE (INTERNSHIPS)
INTERNSHIPS
JAKUB RUSINEK
(NYU)

15:00 – 18:00 Blok B: Studia wyższe i praca dla absolwentów wyższych uczelni – sala lustrzana
Higher education and work for Alumni

15:00 – 16:00
sala lustrzana
JAK STARAĆ SIĘ O PRACĘ (W TYM OMÓWIENIE PISANIA RESUMÉ)
APPLYING FOR A JOB (AND RESUME WRITING)
MATEUSZ DOMOGAŁA
(CEBA)

16:05 – 16:35
sala lustrzana
ZASADY PRZYJMOWANIA NA STUDIA NA CITY UNIVERSITY OF NEW YORK (WYKLAD W JEZYKU ANGIELSKIM)
ADMISSION TO THE CITY UNIVERSITY OF NEW YORK AND CUNY BACCALAUREATE
PROGRAM
LOU NIEWIADOMSKI
(CUNY)

16:40 – 17:00
sala lustrzana
STUDIA I PRACA W DZIEDZINACH ZWIĄZANYCH Z INFORMATYKĄ
STUDYING AND PREPARING FOR A CAREER IN COMPUTER SCIENCE
ARTUR KOWALSKI
(PSO)

17:05 – 17:25
sala lustrzana
STUDIA PRAWNICZE
LAW SCHOOLS
RAFAŁ GAWŁOWSKI
SŁAWOMIR PLATTA

15:00 – 18:00
Blok B: Studia wyższe i praca dla absolwentów wyższych uczelni – sala barowa
Higher education and work for Alumni

15:00 – 15:30
sala barowa
WIZY PRACOWNICZE
WORK VISAS- 'H', 'J1'
WOJCIECH ORZECHOWSKI
(PSO)

15:35 – 16:05
sala barowa
NOSTRYFIKACJA DYPLOMU LEKARZA, PIELĘGNIARSTWO, FIZYKOTERAPIA
POLISH MEDICAL DIPLOMA EVALUATION, NURSING AND PHYSICAL THERAPY
KAMIL ATTA
MONIKA GŁOWACKA

16:10 – 16:40
sala barowa
STUDIA I PRACA W DZIEDZINIE BIZNESU: MBA, FINANSE, KSIĘGOWOŚĆ, BANKOWOŚĆ.
STUDYING AND PREPARING FOR A CAREER IN BUSINESS
JANUSZ STOPA
(CEBA)

16:40 – 17:05
sala barowa.
STUDIA I PRACA W DZIEDZINIE EDUKACJI
STUDYING AND PREPARING FOR A CAREER IN EDUCATION
ELZBIETA COLLINS

17:10 – 17:30
sala barowa
NOSTRYFIKACJA DYPLOMU INŻYNIERA, EGZAMINY ZAWODOWE
EVALUATING POLISH ENGINEERING DIPLOMAS, PROFESSIONAL CERTIFICATION
JERZY PATOCZKA (PT),
MAGDALENA PIETRZAK (PSO)

17:35 – 18:00
sala barowa
PANEL: ARCHITEKTURA, STUDIA DOKTORANCKIE
PANEL DISCUSSION: ARCHITECTURE, DOCTORAL STUDIES
WOJCIECH ORZECHOWSKI
(PSO)
KATARZYNA KOWALSKA
(PSO)

Go to main navigation