6 Months in Chicago
9/14/2010
Since January 2010, when PSFCU opened its two branches in Chicago, 1,863 new Members from that area have joined PSFCU (as of August 31st), while their deposits have reached over $32 million. A total of 3,613 of all types of deposit accounts has been opened; personal loans were granted for the amount of $2.1 million and mortgages for $7.6 million. Also, since January, we have gained 86 business accounts.

PSFCU has strong ties with and provides significant financial support to the communities it serves on the East Cost. That same kind of commitment is also clearly visible in Chicago. This year, for the first time, PSFCU participated in Chicago's May 3rd Parade, during which it had an opportunity to showcase its modern Mobile Branch, impressing many Parade participants and onlookers.

A month after the Parade, PSFCU held a scholarship ceremony in Chicago, also for the very first time. The event was hosted at the headquarters of the Alliance of Polish Clubs – PSFCU's sponsoring organization in Chicago. Ten scholarship recipients were selected in Chicago: nine college students and one high school graduate.

Soon afterwards, PSFCU sponsored two popular Polish events in Chicagoland: the Polonia Cup soccer tournament, organized by PNA Soccer Academy, and Summer Picnic organized by Radio 1030. Both events took place in the sports facility in Yorkville.

Our Mobile Branch was present at both events, enabling our current and future Members to use the full scope of PSFCU products and services available in traditional branches. 67 new accounts were opened during the Summer Picnic, which is a new record for an event of this type.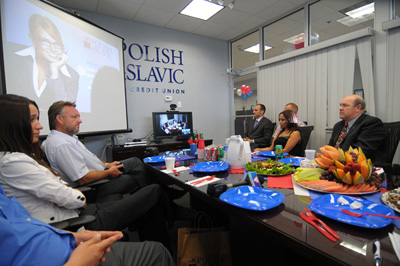 Media in Mount Prospect branch
To celebrate its half-year presence in Chicago, PSFCU prepared traditional Polish food for its Members and invited Polish media to its Mount Prospect location for a presentation on PSFCU achievements and for a discussion about Polonia. Among invited guests were representatives of Kurier Codzienny, Dziennik Zwiazkowy, Magazyn Polonia, Radio 1030, and Radio Polonii. Tadeusz Czajkowski, the President of the Alliance of Polish Clubs, was also present at the meeting.
9/14/2010
Go to main navigation