NYC Comptroller Pays a Courtesy Visit
to Our Credit Union
One of the most important representatives of the NYC authorities, City Comptroller John C. Liu, paid a courtesy visit to Polish & Slavic Federal Credit Union on July 27th, 2010. Mr. Liu met with the members of the Board of Directors and our Credit Union's management at the PSFCU headquarters located at 100 McGuinness Blvd.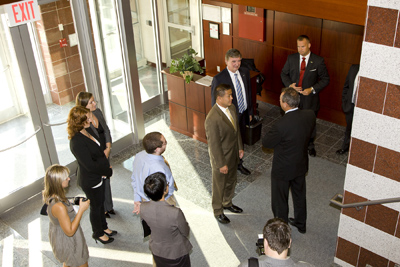 PSFCU Directors and management welcome Mr Liu
"It was an honor to meet with the distinguished members of the Board to discuss further economic empowerment of our neighborhoods and better servicing New York's rapidly growing Polish community," Mr. Liu said.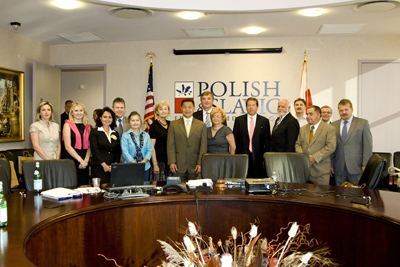 NYC Comptroller poses for a commemorative photo
with PSFCU Board of Directors and management
He stressed the fact that the matters of imigrant communities are very close to him since he himself came to US from Taiwan when he was 5 years old and grew up in the Asian neighborhood of Flushing. Mr. Liu showed his admiration for PSFCU's great history and congratulated its representatives on the upcoming 35th anniversary.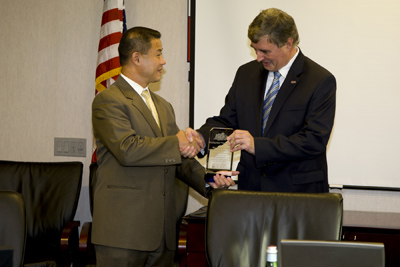 Dr. Tomasz Bortnik, PSFCU Board of Directors Chairman
presents Mr. Liu with a commemorative glass statue
As a sign of appreciation for his visit, Mr. Liu received a commemorative glass statue. "John C. Liu is very supportive of the Polish community and he appreciates the role that our Credit Union plays in it. Mr. Liu and his fellow city employees who accompanied him are very familiar with our Credit Union's achievements, both in the sphere of finance and those stemming from our work on behalf of our members and the entiree Polonia," said PSFCU Chairman, dr. Tomasz Bortnik, in his interview for the local Polish-American media.
Go to main navigation