ACADEMIC SCHOLARSHIPS
FOR THE 10TH STRAIGHT YEAR

Since Program's Inception, 1,400 Young PSFCU Members
Have Received $2.1 million in Financial Aid

Program Expands To Chicago

BROOKLYN, NY (June 25, 2010) – For the 10th straight year, the Polish & Slavic Federal Credit Union has stepped forward to ensure that its young members are given the chance to fulfill their promise, as its annual scholarship program recently awarded 298 students a total of $300,000 to help defray the cost of their education. Since its inception in 2001, the nation's largest ethnic credit union's education program has handed out more than $2 million in academic scholarships to more than 1,400 students, mostly in New York and New Jersey. This year, the PSFCU expanded its largesse to Chicago, where it opened two branches earlier this year.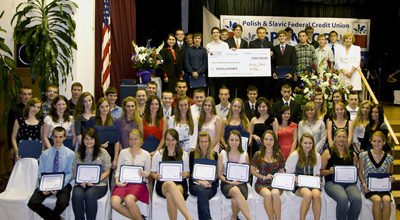 High school graduates at the PSC headquarters
"This program has really come a long way since we awarded 13 students a mere $20,000 back in 2001," said Irena Marchaj, treasurer of the PSFCU board of directors, and chairperson of the board's Scholarship Committee. "We started with a simple goal of helping as many members as possible with the dream of gaining a college education. Today, we see how this program has touched the lives of so many young people. And with our successful expansion into Chicago, we've opened up this program to so many new students in that great city. For starters, 10 brilliant young Chicagoans received our aid this year."

The PSFCU's new Chicago branches, which have already attracted over 1,300 new members and amassed $23 million in deposits, bring PSFCU services to nearly 300,000 residents of Polish and Slavic descent living throughout the area.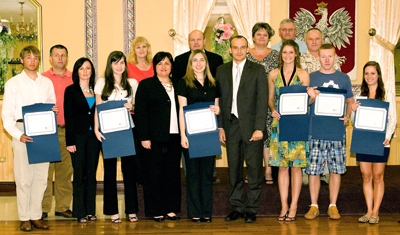 Chicago scholarship recipients with their parents
and PSFCU regional management.

Committed to helping its members reach their full potential, the PSFCU has been very active in supporting academic endeavors to benefit members. In addition to its annual scholarship program, the credit union has also recently donated more than $500,000 to endow the Chair of Polish Studies at Columbia University, and has made generous donations to the Institute of World Politics in Washington, DC.

"In these incredibly challenging times, it would be easy to step back our efforts and blame the economy, but that's not what we're about, and that's not what our members expect from us," said Dr. Thomas Bortnik, chairman of the board of the PSFCU. "Now, more than ever, these young people need a helping hand to succeed in their academic endeavors and we're proud to have made such an impact on their lives."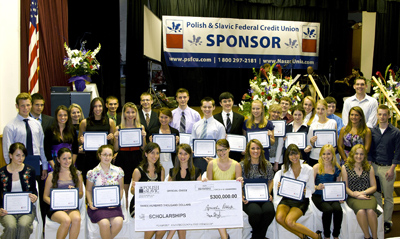 College students after the scholarship awards ceremony in NY.
Scholarship program PSFCU was recognized by the National Association of Federal Credit Unions. PSFCU has received a congratulatory letter from NAFCU.
HIGH SCHOOL GRADUATES
$1000
Szczuka Aleksandra (CUANY scholarship winner)
Ozarek Patrick (CUANY scholarship winner)
Bacza Nicole
Bukowska Sabina
Ciesielska Michelle
Dauszkiewicz Nicole
Grajdek Katarzyna
Kadziolka Urszula
Kalinowski Agnes
Lech Diana
Nowicki Jakub
Pszeniczny Thomas
Słomicz Gabriela
Trochimiuk Natalie
Zalewski Olivia
Ziarnik Natalia
$500
Bajor Angela
Bajor Patrycja
Baran Sylwia
Belcik Alexandria
Biedrzycka Klaudia
Boche Kamil
Boho Kacper
Borowczyk Małgorzata
Boryński Rafal
Chwiejczak Magda
Czajkowski Nicollette
Czapliński Adam
Czarnecki Carolyn
Dąbrowski Alexander
Dąbrowski Michal
Deptuła Jakub
Dera Agata
Dimatteo Robert
Dłużniewski Monica
Domański Sophie
Dul Kamil
Dytko Grzegorz
Dziubek Natalia
Dziurawiec Paweł
Fałkowska Natalia
Faryniarz Jakub
Felusiak Justyna
Fijałkiewicz Kamila
Filipowicz Bianka
Fuks Preston
Gawęda Jakub
Gil Nicholas
Goraj Monika
Gorzelnik Timothy
Gromadzka Justyna
Haberny Monika
Hasaj Grzegorz
Hatak Noella
Huzij Thomas
Izykiewicz Anna
Jachec Anna
Janowiec Paulina
Kamycki Daniel
Kasza Katarzyna
Kata Christine
Kawalec Monika
Kielczewski Bartosz
Kieliszek Paul
Klepadło Marek
Klimuszko Justyna
Klos Rafał W
Kociuba Michał
Kołodziej Monica
Konik Mateusz
Kowalczuk Andżelika
Kozek Caroline
Krasoń Marta
Krawczyk Paula
Król Katarzyna
Lada Paula
Lanogowski Caroline
Laskowski Maksymilian
Leja Marek
Lochnicki Cynthia
Majchrzak Agata
Masiarz Martha
McGovern Julia
Messyasz Urszula
Micek Anna
Midura Margaretta
Mielczarek Agata
Mlekicki Sebastian
Morusiewicz Anna
Mosur Paulina
Mroz Patrycja
Nadzieja Paula
Najbar Patryk
Naleśnik Paul
Niebrzydowski Arthur
Nieznalska Urszula
Nytko Conrad
Nyzio Anna
Obara Nathalia
Obiedziński Patryk
Obrycki Michael
Onisk Paulina
Orlando Jakub
Osiński Amanda
Perkowska Dominika
Perkowski Patryk
Perkowski Veronica
Pisiewicz Thomas
Pogoda Monika
Pogoda Jarosław
Pojawis Julia
Pupek Sylwia
Radomski Adrian
Rago Anna
Rak Klaudia
Remiszewski Kamil
Roszczeda Katarzyna
Roszkowski Stephen
Ryszewska Sylvia
Sadowski Emil
Sagan- Mucha Amelia
Sanowska Marta
Sieradzki Paul
Sobolewska Sylwia
Sowa Anna
Stachurski Arthur
Stańczyk Monika
Staniewski Joanna
Stawowy Magdalena
Stefański Matthew
Strzała Mateusz
Suchocki Michal
Supeł Alexandra
Świetlik Monica
Szafrański Krzysztof
Szefliński Cindy
Tenenbaum Max
Warunek Daniel
Węgrowski Adrianna
Wilgan Anna
Wiśniowski Michael
Witek Kamil
Wojdakowski Kamil
Wojtowicz Anna
Wrobel Katarzyna
Wronski Tomasz
Załoga Aleksander
Zarzecki Katarzyna
Zawada Diana
Zbylut Marcin
Zegan Sylwia
Ziejewski Adrian
Zuba James
COLLEGE STUDENTS
$5000
Ardeljan Michael
Cichocki Robert
Cieciura Lucyna
Drabek Anna
Jaskólska Julia
Kubiak Aleksander
Kwietniewska Miriam
Śliwowski Natalie
Wójcik Elżbieta
Zbylut Łukasz
$2000
Baszyński Bartosz
Chojnowski Robert
Filochowski Piotr
Guzierowicz Dyzio
Jachowski Juliet
Jerschina Jeremy
Lasota Przemysław
Lesko Katarzyna
Misiuk Bogumił
Piela Bartłomiej
Popławski Michał
Robak Magdalena
Sadej Ewa
Wnorowski Alicia
Zieliński Adrian

$1000

Augustyn Kinga
Balabusta Sylvia
Banach Wanda
Batchan Helen
Bielawski Nicole
Bielecka Patricia
Blach Izabela
Brennan Natalia
Bukala Karolina
Cichocki Jakub
Cichon Jakub
Czarnocka Sylwia
Denarski Artur
Dłużniewski Patrick
Gonek Maciej
Gorska Patrycja
Gorz Mariusz
Grabarz Mariusz
Grazda Joanna
Grzybowski Gabriela
Grzywacz Adriana
Herdzik Jakub
Jednac Paulina
Jerschina Jacob
Juda Edyta
Jurkowski Rafał
Kajewska Joanna
Kania Pauline
Kantorowska Agata
Kawa Paulina
Kielkucki Aneta
Kielkucki Joanna
Klimczuk Anna
Klosek Agnieszka
Koleczek Agnieszka
Koltun Kelly
Korotko Mateusz
Kosianka Justyna
Kosiorek Przemysław
Kotelnicki Gabrielle
Kowalik Urszula
Kozlowska Hanna
Krudysz Joanna
Krysiński Jaclyn
Ksepka Martha
Kulesza Joanna
Kus Michelle
Kwiatkowski Gabrielle
Łapiński Mariusz
Lasota Sebastian
Leszkiewicz Maurycy
Lubera Sylvia
Łukasik Joanna
Malachowski Maria
Malec Marcin
Malinowska Paulina
Marciszewska Marta
Masiuk Nicole
Mieczkowska Magdalena
Mielczarek Kamil
Milewski Justyna
Mioduszewski Łukasz
Niemiec Natalia
Niemyski Marek
Nowak MichaŁ
Okuniewska Martyna
Orzechowski Adam
Otlowski Tomasz
Pazdan Beata
Perkowski Nataly
Piszczatowski Richard
Pociask Michael
Pogorzelski Gregory
Pogorzelski Veronica
Polkowski Piotr
Puskarczyk Karolina
Purchla Agnes
Radlowski Przemysław
Rakowski Richard
Rosiński Anna
Roszkowski John
Sadowski Maciej
Sikorski Kamil
Śliwa Joanna
Słowiński Sandra
Śmiarowski Konrad
Socha Julia
Socha Magda
Stępien Marta
Sudol Katarzyna
Sygnarowicz Agnieszka
Syta Józef
Szafran Weronika
Szafrański Peter
Szczurko Andrzej
Szenk Mariola
Tenenbaum Conrad
Terepka Angela
Terepka Patrycja
Tomczyk Joanna
Truszkowska Katarzyna
Wąchała Maciej
Wądołowska Julia
Walocha Jessica
Warmuz Anna M
Wiecko Kamil
Wilk Dominika
Wiśnicki Dagmara
Wiśniewska Edyta
Wiszowaty Christina
Witkowska Anna
Wójcik Patrick
Wojdak Natalia
Wojnarowski Anastazja
Woźny Karolina
Wyrembak Paul
Zabrocka Katarzyna
Zachowicz Paulina
Zielińska Justyna
Go to main navigation