PSFCU's first appearance at May 3rd parade
in Chicago
On the first weekend of May, PSFCU made its debut at the May 3rd Parade in Chicago, when our super-modern Mobile Branch was presented to the Chicago Polonia. PSFCU participation in the Parade, which has a 119th year-old tradition, marks the beginning of a new PSFCU tradition – the tradition of sponsoring this important event, commemorating one of the most progressive constitutions in the world.
During this year's Parade, PSFCU was represented by its employees from the Norridge and Mt. Prospect branches as well as students from Jan Kochanowski Polish School – a member of the Alliance of Polish Clubs – the organization that has become a new PSFCU sponsor in Chicago.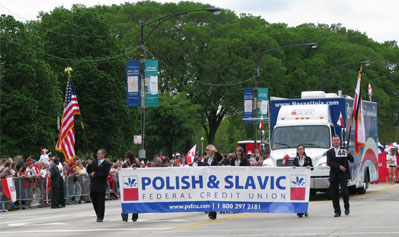 PSFCU's employees at the Parade
"Judging by the very welcoming and warm reception by the onlookers, as well as an enthusiastic introduction by the Parade organizers, this was quite a successful event."– said Mr. Zbigniew Rogalski, VP/ Head of Midwest District. – "It was a great opportunity for us to present our financial strength, to emphasize our presence in Chicago and show our willingness to support Polonia."
The Parade, organized by the Alliance of Polish Clubs under the theme "Frederic Chopin – Poland's Gift to the World," stepped off at 11:30 am and marched along Columbus Ave., from Balbo to Monroe Street. Over one hundred Polish organizations participated in this event, with thousands of spectators cheering along the route.
A day before the event, at the invitation of Mr. Tadeusz Czajkowski, the President of The Alliance of Polish Clubs, PSFCU representatives participated in an annual meeting of Polish organizations with the Mayor of Chicago, Mr. Richard M. Daley.

Go to main navigation