Clifton Branch Renovation
The Clifton branch of the Polish & Slavic Federal Credit Union was reopened April 26 after a nearly month-long renovation. In spite of the construction work, branch operations were never interrupted thanks to the Mobile Branch of our Credit Union, where our members were able to complete the same transactions they would at a brick-and-mortar branch.

The Clifton branch was originally opened in September 1996 as the second PSFCU branch in the state of New Jersey. It allows our Credit Union to provide financial products and services to the Polish-American communities in the northern part of the state.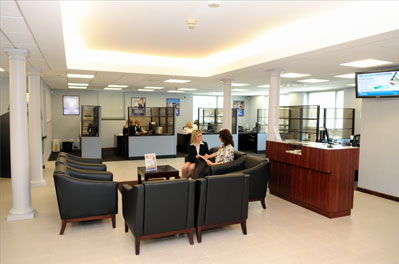 Clifton Branch after renovation


Following the renovation, the branch now has 2,760 sq. ft. of utility space, four MSR desks and a spacious Conference Room. Its interior design corresponds to the standard applied to the newer branches of our Credit Union. It is equipped with large UniaTV screens presenting, aside from Polish language programming, current PSFCU promotional offers and information for our members.

The Clifton branch is also equipped with an ATM allowing 24/7 access to your account. As an added convenience, the branch features a large parking lot.

"I like the fact that the branch looks so new and clean," said Ms. Helena Prelich, a PSFCU member of 14 years. "I like the new leather armchairs for the clients," she added.
Ms. Ewa Jabonowska, who visited the branch with her young daughter, stops by the Vlifton branch often since she resides nearby. "I'm glad the branch has been renovated; it's so bright and spacious. I like coming here," Ms. Jabonowska said.
05/03/2010

Go to main navigation