PSFCU - DIAMOND SPONSOR
OF THE PULASKI DAY PARADE
The PSFCU's Colorful Representation
among the first groups of the parade on 5th Ave
The rain that accompanied the parade preparations in the morning, stopped just as our contingency of employees and directors began gathering in NYC for the parade. All of the credit union's employees and directors gave up their day off on Sunday, so that they would be able to represent PSFCU at the largest event of Polonia in NY.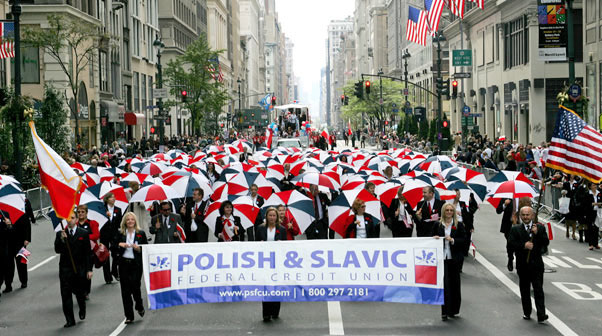 PSFCU at the Pulaski Day Parade - Oct 1, 2006 near 40th St & 5th Av
Our credit union was the diamond sponsor of the parade, marching up fifth ave among the first groups of the parade - as a very colorful group lead by our corporate float. Our marchers were lead by our corporate float, which was decorated with a huge coin commemorating our 30th anniversary and were followed by our "music" float - that played Polish hits.
The red, white and blue PSFCU umbrellas, accented the parade, by giving our marchers additional color. The umbrellas complimented the 30th anniversary buttons and red carnations pinned onto the navy blue jackets of the PSFCU staff. The onlookers received our group warmly with loud applause.

| | |
| --- | --- |
| | |
| Corporate float with commemorative 30th Anniversary coin | Employees greet onlookers |
A sincere thank you and congratulations, to all those who worked on the parade preparations, as well as those who represented PSFCU in this year's Pulaski Day Parade.
Go to main navigation