The American Czestochowa Attractions:
Credit Union for Seniors
Our Credit Union has been supporting numerous events and programs benefiting the Polish community for years. We support not only schools, churches, Polish organizations and our youth, but also try to pay a lot of attention to those who have been with us for the longest period of time.

PSFCU organized, specifically for the seniors, a trip to the National Shrine of Our Lady of Czestochowa in Doylestown, PA on September 6. To meet the criteria of participation in this pilgrimage sponsored wholly by our Credit Union, called "The American Czestochowa Attractions," attendees had to be PSFCU members aged 60 and above.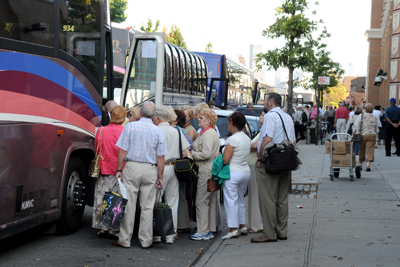 Members of our Credit Union in front of the McGuinness Blvd. branch.
On the same day, the Sanctuary hosted the 44th Polish-American Festival, the largest such Polish event in the US. Every year, a doze or so thousand pilgrims flock to the Sanctuary to attend the event.
On a Sunday morning, 10 buses with nearly 450 PSFCU members departed from branches in New York and New Jersey to Pennsylvania to take part in a mass celebrated for our Members by the Pauline Fathers. All trip participants received gifts, soft drinks, snacks and PSFCU promotional materials.

Representatives of our Credit Union were also present on each bus. After the mass, PSFCU pilgrims attended a meeting, organized specially for them, with Rev. Tadeusz Lizyńczyk who familiarized them with the history and activities of the Sanctuary and with the mission of the Pauline fathers.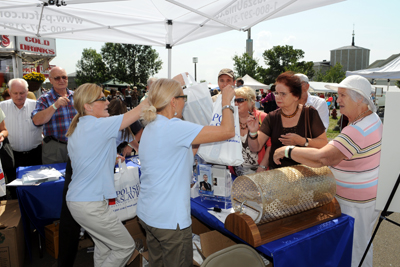 Our Credit Union's tent attracted a lot of interest.
After the meeting, members of our Credit Union had an opportunity to visit a medieval Polish village, view traditional Old Polish costumes and have a hot meal provided by PSFCU to all trip participants. At 5 PM, everybody went back to their buses for a return trip home after a day full of excitement.

Judging by numerous comments by trip participants, everyone had a good time and was hoping to be able to join an even bigger group, taking part in a similar trip next year. We are happy to have been able to prove yet again that our Credit Union is more than a bank.
Go to main navigation