Trenton Drawing Prizes Awarded

The new branch of our Credit Union in New Jersey capital city of Trenton was officially opened on March 21, 2009. To celebrate this event, PSFCU organized special promotional prize drawing, the winners of which were selected from among all persons who either opened new accounts at Trenton or entered the drawing by filling out special entry forms at the new branch.
In the course of the promotion, thirty persons received gift baskets and four persons won grand prizes: two round trip tickets to Poland aboard LOT Polish Airlines, Sony® Blu-Ray player and a Garmin® GPS receiver. Weekly gift basket drawings were held over the period of ten weeks, between March 28 and May 30, and their winners received their awards a few days after each drawing.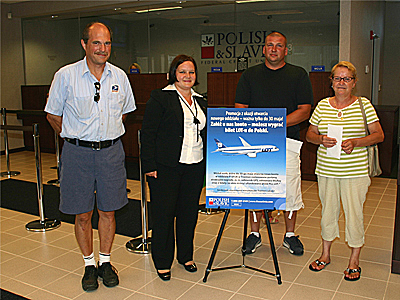 Ms. Agnieszka Poślednik with prize winners

The Grand Prize drawing took place on June 26 under the supervision of representatives of the PSFCU Compliance Department. It is worth mentioning that, by the end of the promotional period; the new branch opened 443 new accounts and gained 437 new members.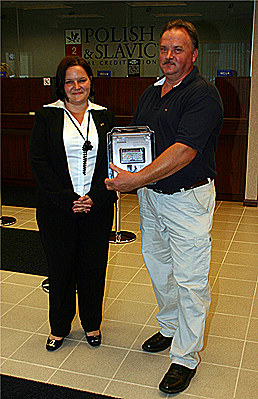 Mr. Czesław Musiał receives the award from Ms. Agnieszka Poślednik

The award ceremony took place on July 28 – prizes were handed out by PSFCU Chief Operation Officer, Ms. Agnieszka Poslednik, and by Trenton Branch Manager, Ms. Barbara Milewski. The two LOT tickets were won by Ms. Krystyna Mikiewicz and Mr. Ireneusz Michałowski, Mr. Czesław Musiał received the Garmin® GPS receiver, while Mr. Ronal Jakubisin received the SONY® Blu-ray player standing in for his son, who was not able to attend the ceremony.

Go to main navigation