Polish & Slavic Federal Credit Union is not only concerned
with its members financial condition, but also with their health.

Cooperating with the staff of Bellevue Hospital, PSFCU organized
a free health fair for the Polish community in the NYC area

Members of the Credit Union awaiting medical exams
(Brooklyn, NY August 27, 2006) The everyday discussions about savings and investments as usually take place at the McGuinness branch of the Polish & Slavic Federal Credit Union, were changed during two sessions on August 20th and September 17th to professional analysis of blood pressure, as well as glucose and cholesterol levels. The PSFCU community room was converted into a "clinic", where the medical staff of Bellevue Hospital, invited by PSFCU, conducted the free screenings for the local Polish community and PSFCU members. In addition to the free screenings, members also had access to free medical advice about general health, proper diets, smoking cessation and health insurance plans.
"I don't have medical insurance, so this is a fantastic opportunity for me to have some basic tests performed", stated Ms. Zofia Zielinska, one of the 265 people who took advantage of this health fair to meet with the specialists from Bellevue Hospital. "I would like to thank the Credit Union for this valuable initiative. Thanks to this type of outreach, one can see the difference between our Credit Union, which cares about its members and our community as compared to commercial banks, which cheerfully accept Polonia's deposits, but our group has no measurable benefit from this."
| | |
| --- | --- |
| Mr. & Mrs. Stanisław i Stanisława Małż with medical records | Mrs. Zofia Zielińska |
PSFCU, which organized a similar event last year, has been cooperating with Bellevue Hospital for several years already. "Polish & Slavic Federal Credit Union is a very important partner for us. Thanks to a donation from the Credit Union, we were able to prepare all the informational material in Polish. Our staff also has Polish speaking personnel who often help us communicate with Polish patients", commented Ms. Chris Cho and Camille Ferdinand, representatives of Bellevue Hospital. Both ladies helped organize a similar event in 2004, which also received high ranks from the community.
"This year the event was well organized and the location was great, since there was parking available" acknowledged long time members Mr. & Mrs. Malz, who also took advantage of the screenings in previous years. "There were no unnecessary lines, the screenings went smoothly and the results were given quickly. We are grateful to the Credit Union personnel, who gave up their Sunday, so that we can be tested. We also want to thank the hospital personnel for their professionalism and good advice."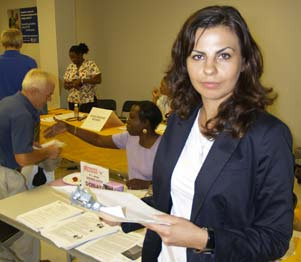 Monika Kozdra (employee of PSFCU McGuinness branch) directs members
Both Sunday sessions were very popular - it was an occasion to get tested at no charge. Overall 265 members were tested Such great popularity proves that there is a great demand for this kind of medical initiatives among our members and they should be continued in the future.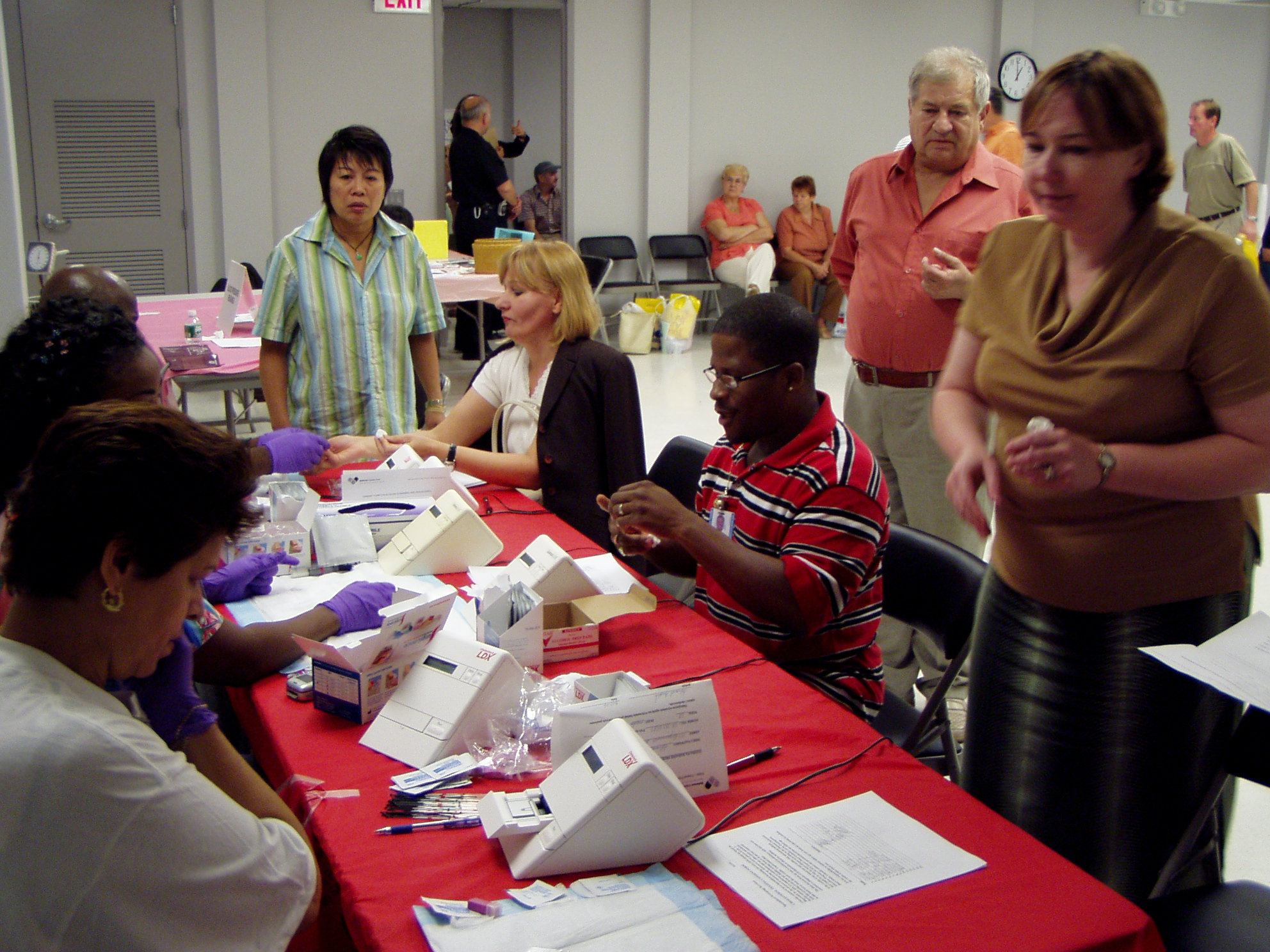 Members awaiting their tests at the Health Fair on September 17th
Go to main navigation