AMERICAN DIPLOMATS AT PSFCU
A delegation of American diplomats who are about to take over diplomatic posts in Poland visited our Credit Union on Monday, July 20. This was the third such visit, during which PSFCU traditionally served our guests as the place where they could get a taste of all aspects of Polish life.
This year, our Credit Union was visited by Virginia Harris and Brian Gerhard, who will work at the American Embassy in Warsaw, together with Kathy and Jonathan Koehler, who will take over posts at the Consulate General in Krakow. The aim of their visit was to familiarize them with the activities of PSFCU, the largest Polish financial institution outside of Poland; it also served as a practical test of their knowledge of the Polish language, which the diplomats studied during a half-year intensive course.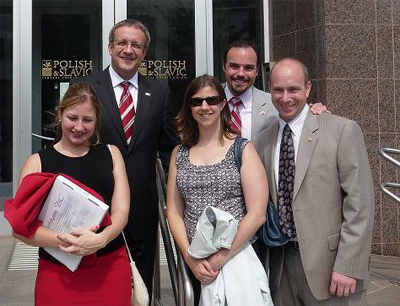 From the left: Virginia Harris, Bogdan Chmielewski, Kathy Koehler,
Brian Gerhard , Jonathan Koehler
Our distinguished guests listened to a presentation by PSFCU's CEO, Mr. Bogdan Chmielewski, covering the Credit Union's financial products and services, and familiarized themselves with PSFCU activities on behalf of the Polish community. After the presentation, our guests asked numerous questions in Polish, without resorting to English, proving that they were perfectly prepared for this meeting as well as for their future work in Poland.
Go to main navigation