Record Breaking PSFCU Scholarships
PSFCU Scholarship Program has supported
the educational dreams
of our young members for nine years
This year's edition of the Polish & Slavic Federal Credit Union's Scholarship Program, which has supported the educational dreams of the Polish-American youth since 2001, set two significant records. As many as 316 young persons received scholarships – 60 more than last year, with the total scholarships amounting to $350,000 i.e. $50,000 more than the previous record. Over the life of the program, our Credit Union has issued $1.8 million in scholarships to a total of 1,100 students.
"As a Director of the Credit Union, I have always lobbied for granting as many scholarships as possible," said Ms. Bożena Kajewska-Pielarz, Chair of the Scholarship Committee at the PSFCU Board of Directors. "I am happy that, this year, our youth will receive so much support. Our young members are well worth it. I know this from my own experience, since many of my former students now hold high offices and a vast majority of them are still active within our community. Investing in the young generation is the best investment our Credit Union could make."
This year's PSFCU scholarship program consists of three separate parts: for high-school graduates, university students and the "Astronomy Adventure with Kopernik" – a program aimed at elementary school students which will allow 20 young "astronomers" to attend a scientific summer camp at the Kopernik Observatory in Vestal, NY.
Award ceremony for the first part of the scholarship program took place on May 28 during a reception at Princess Manor, located at Nassau Avenue in Greenpoint. Scholarships were granted to 157 young people, majority of whom attended the ceremony accompanied by their extremely proud parents.
As before, the program for high-school graduates was administered by CUANY - Credit Union Association of New York. 15 best recipients were awarded $2,000 each and the remaining students received $500 each.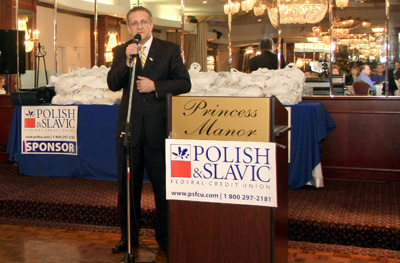 Bogdan Chmielewski congratulates the scholarship recipients

In addition, CUANY has awarded two of our young members with additional $500 within the framework of a statewide program, in the course of which 101 credit unions submitted their candidates. Young PSFCU met with significant success since CUANY awarded only 20 scholarships in the total amount of $10,000. State CUANY scholarships were granted to Karolina Tuskarczyk and Marta Stępień.
The criteria for awarding scholarships to high-school graduates were similar to those in the past years: candidates had to be PSFCU members and high-school graduates who in the fall will begin studies at accredited universities. In addition, each candidate had to exhibit good study results and actively participate in the life of our community.
During the ceremony, scholarship recipients presented their future universities. PSFCU scholarship recipients will attend such prestigious schools as Brown University, Princeton University, Notre Dame University, NYU, and even Poznan University of Medical Sciences and the Jagellonian University in Krakow.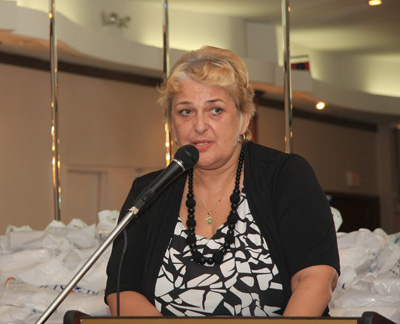 Bożena Kajewska-Pielarz speaks about the scholarship program

Ms. Bożena Kajewska-Pielarz could not hide how proud she was with the young PSFCU members. "My life has always centered on education-related issues. I have also always believed in the words of John Paul II who said that "the future thousand years already depends on today's Polish youth." This sentiment was shared by Mr. Bogdan Chmielewski, PSFCU CEO. In his speech, he appealed to scholarship recipients never to quit following their ambitious educational dreams and never to forget their cultural heritage.
During a surprise presentation, Alex Storożynski, former Chairman of the PSFCU Board of Directors, introduced his new book about Tadeusz Kościuszko entitled "The Peasant Prince." Mr. Storożynski jokingly mentioned the fact that Kościuszko also received his military education thanks to the financial assistance of a magnate friend. Each student received a copy of the book, which their author readily signed after the ceremony.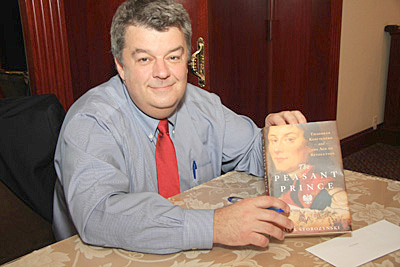 Alex Storożynski presents his book
The award ceremony for the PSFCU autonomous scholarship program for college students will take place on June 16, while the winners of "Astronomy Adventure with Copernicus" received their awards on May 14, 2009.
Go to main navigation