Award Ceremony at Maspeth
The New, spacious PSFCU branch at Maspeth – which includes a parking lot (a rarity in New York City) – is the 12th branch of our Credit Union. Its grand opening ceremony took place on February 21, 2009.
Winners of the special prize drawing organized in connection with the prize drawing were particularly happy. In the course of this promotional campaign, 45 persons won beautiful gift baskets while three persons won the main prizes: a 32" SONY® Bravia LCD TV, SONY® Blu-Ray disc player and a Garmin® GPS receiver.

Winners of the gift baskets were drawn every Saturday from among people who opened an account at the new branch in a given week. The drawings we held for 9 weeks, from February 7 until March 31.
Winners of the three main prizes were drawn from among all persons who opened new accounts at Maspeth or entered the drawing by filling out special entry cards at the branch. The drawing too place on April 25 in the presence of representatives of the PSFCU Compliance Department.

Gift baskets were handed out to the winners a few days after each drawing. Winners of the main prizes received their awards on May 19 from Ms. Agnieszka Poslednik, Chief Operations Officer together with Maspeth Branch Manager, Mr. Zbigniew Rogalski. The recipients were: Ms. Eleonora Świdzińska, who won the TV set, Ms. Danuta Szablowska, winner of the Blu-Ray player, and Ms. Elżbieta Magdziarz, who received a great GPS receiver.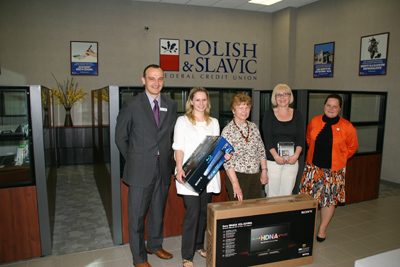 From the left: Zbigniew Rogalski, Maspeth Branch Manager,
Edyta Szabłowska (picked up the prize for her mother Danuta who was unable to come), Eleonora Świdziński, Elżbieta Mandziarz,
Agnieszka Poślednik,COO of the PSFCU.
Ms. Eleonora Świdzińska was enormously surprised with the fact that she had won such a valuable TV set. "At first I thought it was a joke. I have never won anything in my life and I'm particularly happy with this prize because I have a small TV in my kitchen and I'll be glad to replace it. I like solving crossword puzzles and watching my favorite shows at the same time. It's a wonderful gift; I would like to thank the Credit Union very much. It's worth to be a PSFCU member! I'll tell this to everyone," Ms. Świdzińska said.

Go to main navigation