Polish Youth are Drawn to the
Polish & Slavic Federal Credit Union

Elementary School Students Receive Awards
In Two Programs

Thanks to Our Credit Union, "Astronomy Adventure
with Copernicus" Winners will Attend a Science Camp

An awards ceremony for winners of the "Credit Union for Students" and "Astronomy Adventure with Copernicus" programs was held on Thursday, May 14, at the PSFCU headquarters located at 100 McGuinness Blvd., in Brooklyn. Over 140 students, parents and teachers attended the ceremony – a record for this sort of events at the PSFCU.

Both programs were held in cooperation with the Polish Supplementary School Council of America. In the course of the "Credit Union for Students" program, Polish school principals, acting in accordance with internal regulations, have selected the most diligent students at their schools. Our Credit Union issued award certificates to each selected student and deposited $100 to each student's PSFCU account. Students were evaluated based on their grades, diligence and punctuality, as well as overall involvement in the school community during the 2008/09 school year.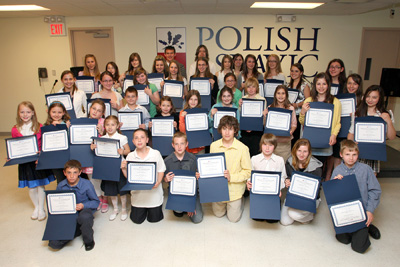 "Credit Union for Students" winners pose for a commemorative photo
In order to take part in the "Astronomy Adventure with Copernicus," students had to write an essay on the topic "How Can the Example of Nicholas Copernicus and the Financial Support of Our Credit Union Help Me Become a Scientist?" The essays were evaluated by Monika Karczmarczyk and Marta Danielewicz, Polish teachers selected by the Council.

A total of 48 children from schools in New York, New Jersey, Connecticut and Pennsylvania received their award certificates and checks, while 20 lucky young winners who wrote highest rated essays will attend a summer camp at the Kopernik Observatory in Vestal, NY, with all expenses paid by our Credit Union. These awards are a form of scientific scholarship, promoting interest in sciences among the school youth.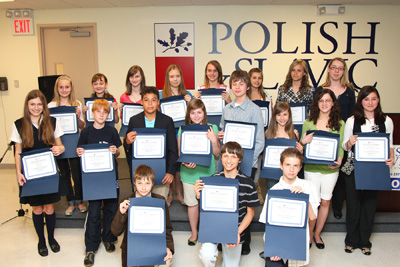 Winners of " Astronomy Adventure with Copernicus"

"Thanks to our Credit Union, Polish schools have more and more to offer. Students, in turn, can see that someone remembers them and cares for them. A ceremony like this can present the best of our youth to the entire Polish community," said Dorota Andraka, Council Chairwoman. "The more we invest in them now, the more we will be able to count on their involvement in our community matters in the future. Thanks to programs like these, all these wonderful young people will also have accounts at the Credit Union, which teaches them how to wisely manage their finances."

On behalf of the Credit Union, the ceremony was attended by representatives of the Board of Directors - Elżbieta Baumgartner and Marzena Wierzbowska. "For the past few years I have been in touch with young people who have attended the science camp at Vestal. I was fascinated with their enthusiasm and I saw how this experience later shaped their interests. That is why I myself got interested in the Observatory's scientific programs; the idea was picked up by other members of the Board of Directors and our "Astronomy Adventure" was born," Ms. Baumgartner recalled. "Camp attendees observe the planets and moons of the Solar System; they investigate possibilities of a space mission; they participate in astral photography sessions and research the opportunities of using robots in the outer space.

Bogdan Chmielewski, PSFCU's CEO, did not hide his satisfaction with the fact that young people are so eager to study and are joining the ranks of the Credit Union members in the process. "This young generation is building the future of the Polish community so we do care about their willingness to study. Some day, they will represent us well. Perhaps some of those present here will put their talents to good use serving our Credit Union in the future. Perhaps one of them will one day head our Credit Union serving as its CEO."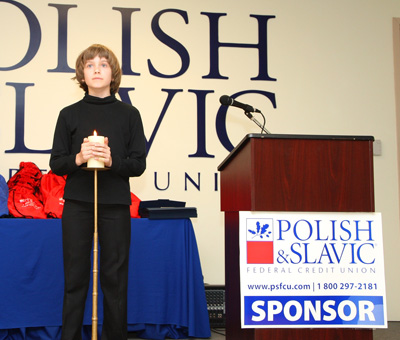 Julian Glowacz recites 'Konrad's Prayer" from S. Wyspianski's "Liberation"
The award ceremony featured performances by Marek Mroziewski and Julian Głowacz, students of the Henryk Sienkiewicz Polish Supplementary School and winners of the "Paths to Freedom" poetry recital contest, sponsored by PSFCU a few months ago. The young performers and all award winners were applauded by their parents, teachers and employees of our Credit Union.
Go to main navigation