Young age - great talent
Drawing contest finale
"What I like about our Credit Union"
A special event took place on March 12 at the PSFCU headquarters located at 100 McGuinnes Blvd. Our Credit Union hosted young children, students of the Polish Supplementary Schools, who won awards in the "What I Like about Our Credit Union" drawing contest, organized by PSFCU and the Polish Supplementary School Council of America.
220 pictures painted, drawn or prepared using any other technique have been submitted for the contest. Initial selection of contest submissions was performed by arts teachers Agnieszka Goleń and Marta Kirkicka. Works were divided into two age groups: 5-9 and 10-14. The teachers graded the pictures based on their relevance, approach to the contest subject, form, originality, aestheticism, accuracy and composition.
"The subject matter was only seemingly easy; the children had to decide what they liked about our Credit Union and young Polonia likes everything about the Credit Union," joked Dorota Andraka, President of the Polish Supplementary School Council. "Judging by the high level of work, our artists took the subject very seriously with a great emotional involvement; the pictures are very colorful, very vivid and full of interesting characters".
Second stage of the contest was evaluated by members of the PSFCU's Board of Directors: Bożena Kajewska-Pielarz, Elzbieta Baumgartner and Marzena Wierzbowska as well as Krzysztof Matyszczyk and Wojciech Mleczko. Even though, originally, selection of six contest winners was planned, the jury decided to grant a lot more awards; a total of 33 awards were given, including six prizes in the amount of $100, six prizes in the amount of $50 and twenty five honorary citations.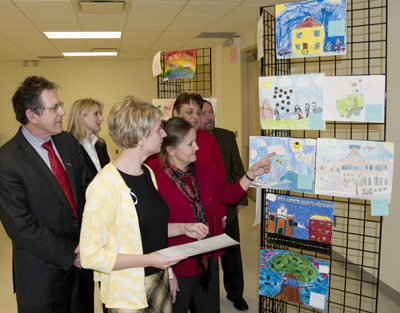 PSFCU Directors choose the best pictures
Agnieszka Poślednik, PSFCU's COO along with the female members of the Board of Directors, presented the winners with certificates authorizing parents of the young artists to have the awarded amounts deposited to their children's minor accounts. A number of new accounts were opened for the winners right after the ceremony; the McGuinness branch employees worked after hours to assist the youngsters in opening their own Minor Accounts.
"All pictures were wonderful. We had a tough job to choose the best of the best because all of them deserve an award". – said Ms. Baumgartner, PSFCU Board of Directors' 2nd Vice Chairman. – "Our Polish children are very talented and we are very proud of them, not only as the contest organizers but also as mothers".
Aside from the pictures drawn by the young artists, the evening was filled with other artistic exploits: Sara Muzyka sang "Daisy," a popular scout song, while Natalia Dzikowski recited Jan Brzechwa's poem "At the market". At the invitation of Dorota Andraka, President of the Supplementary School Council, Michelle Baranowski sang Celine Dion's hit "My Heart Will Go On". Michelle is a former student of the Cyril and Methodius School. The performances were applauded with great enthusiasm; thus far, without a doubt, it was one of the most pleasant events organized by our Credit Union this year.
Go to main navigation