NATIONAL BANK OF POLAND PRESIDENT PRAISES PSFCU
FOR ITS INVESTMENT PRACTICES,
MANAGEMENT ACUMEN AND SCHOLARSHIP PROGRAMS

Visiting Official Impressed
By Credit Union's Achievements
Despite Facing Turbulent Times

During his recent visit to the largest Polish financial institution outside his home country, Slawomir Skrzypek, president of the National Bank of Poland, heaped praise on the Polish & Slavic Federal Credit Union for its progressive programs, sound investment strategy and unyielding commitment to Poland and Polish-Americans.

"You can all be proud of your credit union," said Mr. Skrzypek. "It is no secret that P-SFCU has become a symbol of Polonia's financial strength. So quite naturally, planning my trip to the US, I made a point to find out first-hand what stands behind your success. Your organization is doing
a fantastic job."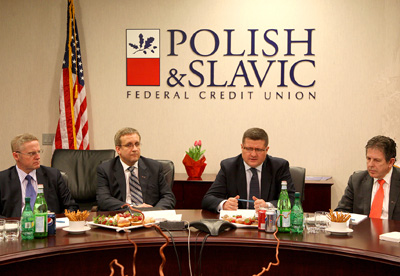 From the left Piotr Wiesiołek, Vice President of NBP; Bogdan Chmielewski,
PSFCU CEO; Sławomir Skrzypek, NPB President; Krzysztof Matyszczyk,
Chairman of PSFCU Board of Directors
At an evening meeting at the PSFCU headquarters in Brooklyn last week, Mr. Skrzypek was briefed on the history and achievements of the largest ethnic credit union in the country, and, in turn, spoke candidly with the PSFCU's board of directors about the state of the Polish economy.

"It was a true honor to have such a distinguished official spend time getting to know us, our members and how we do business," said Mr. Bogdan Chmielewski, PSFCU's CEO. "This is a sign of how financial leaders – here and in Poland – are increasingly recognizing the strides and successes we've made in our credit union and acknowledging the positive impact of the credit union movement as a whole. A few months ago, we met here with representatives of Polish credit unions, the SKOKs, and they also reported that their good financial standing translated into strengthening their overall position in Poland."

NBP Presidents answers the questions of the meeting's participants
At the conclusion of his visit, Mr. Skrzypek expressed his admiration for the success the PSFCU has achieved in these difficult financial times. Stating how impressed he was with the achievements of his fellow countrymen overseas, Mr. Skrzypek commended the organization for its healthy balance sheet – especially noting how favorably it compares to other financial institutions here and abroad –its commitment to ensuring the financial safety of its members, and its tireless work to strengthen and enhance the image of Polonia within the U.S.
Of particular interest to the high-ranking government official was the fact that the PSFCU has awarded more than $1.8 million in scholarships to worthy students who will continue to build on this foundation of education created by the credit union.

"I think President Skrzypek felt that this community program captured the true essence of a local ethnic credit union: one that placed such a great emphasis on the future of its community and on the betterment of its members and their families," said Mr. Krzysztof Matyszczyk, PSFCU's chairman of the board of directors.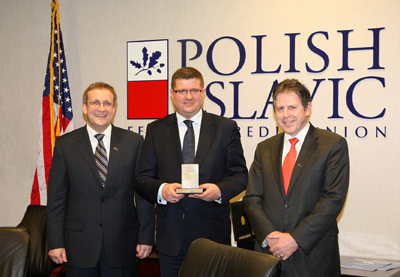 Our CEO presents NBP President with a statuette of PSFCU savings passbook
For his memorable visit the PSFCU bestowed symbolic membership upon the distinguished guest, presenting him with a silver and gold statuette of its savings passbook. In return, Mr. Skrzypek presented PSFCU officials with sets of NBP coins, issued to commemorate the 400th anniversary of the arrival of Polish immigrants to the United States.
Go to main navigation