POLISH & SLAVIC FEDERAL CREDIT UNION
PROCEEDS WITH AGGRESSIVE EXPANSION

PSFCU Opens New Branch In Queens;

Announces Opening Of Trenton Branch In March

Continuing to defy the current economic malaise affecting most banks, the Polish & Slavic Federal Credit Union shows no signs of slowing its expansion, as it opened its 12th branch this past week, and announced that it would formally open another branch in Trenton by mid-March.

The new branch opening, in Maspeth, Queens, provides a stark reminder of how the financial services industry has shifted in favor of the community-centered, niche credit unions.
"Our credit union's success is built on a history of smart, sound business decisions designed to benefit our members," said Mr. Bogdan Chmielewski, CEO of the PSFCU. "Everywhere you look, you see banks closing or contracting, which hurts everyone. We're proud to expand our footprint and to serve notice to the community that we're here to stay."

The Maspeth grand opening was held Feb. 21, and was attended by local residents, representatives of the Polish Consulate, local clergymen, officials from the borough of Queens, local businessmen, officials from various Polish-American organizations, and PSFCU representatives.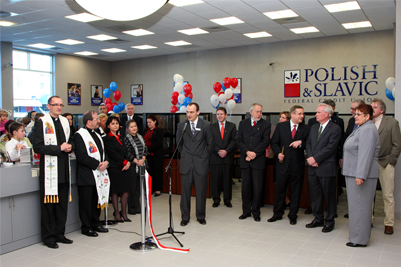 Branch manager Zbigniew Rogalski welcomes the guests
Located at 66-14 Grand Avenue, the 5,400 square-foot branch is expected to serve more than 40,000 potential members who live in the immediate vicinity of the branch.

This marks the second new branch that the PSFCU has opened in the past 12 months. The Trenton opening is scheduled for March 21st. The 3,500-square-foot facility will serve the 20,000+ credit union members from throughout central New Jersey and the Philadelphia area.

"In this economic climate, it's amazing to see a credit union such as this continue to build and grow," said City Council Member Tony Avella "I hope others can take from this a renewed hope that fiscally fit and principled organizations can indeed survive and thrive in any economic situation. This is proud day for the PSFCU and all Polish-Americans."

The PSFCU's roots go back to 1976, when it began operating out of a small, rented room in what was then the down-and-out Brooklyn neighborhood of Greenpoint. Few would have suspected that the PSFCU would become the largest ethnic credit union in the country, and would be among the top 100 of the 8,000-plus total credit unions in the U.S.

Go to main navigation