PSFCU FINALIZES FUNDRAISING EFFORT TO
ENDOW THE CHAIR OF POLISH STUDIES AT COLUMBIA UNIVERSITY
Our Credit Union Comes Through With A Total Of $500,000 Over The Past Five Years
PSFCU's latest donation of $181,000 boosts up the funds to the required $3 million goal
Five years after Columbia University professor John Micgiel presented his idea of establishing a Chair of Polish Studies to the Directors of the Polish & Slavic Federal Credit Union, the program can now officially begin, as the PSFCU today donated the final $181,000 toward its creation.
This will mark the first permanent Polish Studies curriculum at an Ivy League school. In total, more than $3 million was raised to create the program, with the PSFCU donating a half-million dollars to the cause over the past five years.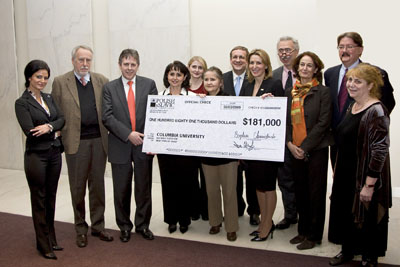 Members of PSFCU delegation hand the donation
check to the representatives of Columbia University
"This is a truly historic and prideful day for Polonians and all Polish-Americans," said Bogdan Chmielewski, CEO of the Polish & Slavic Federal Credit Union. "Thanks to the department's existence, Poland's visibility within the hallowed halls of U.S. academia will increase greatly. Furthermore, there will be heightened awareness of Poland's vast contributions to world culture."
The Chair will promote cultural and scientific achievements of Poland and the Polish people at one of the most prestigious universities in the U.S. It will also work with the Council of Polish Supplementary Schools to help administer Polish Language Regents exams, taken annually by students attending those ethnic schools.

The PSFCU sees this as a vital investment in the education of a younger generation of Poles who will now be able to have a greater respect and knowledge of their heritage and culture.
The PSFCU, the country's largest ethnic credit union, was the first organization to get on board with Professor Micgiel's dream of furthering the study of Polish history and culture five years ago when it made an initial donation of $20,000. That year, Professor Micgiel managed to raise a total of $23,500, including the PSFCU donation. The credit union followed through with additional donations, but more importantly, championed the cause in the media, which eventually convinced others, including major companies in Poland, to donate significant amounts of money.
"Throughout the past five years, we have always been able to count on the PSFCU for support. They have kept us going, kept us moving forward and kept us filled with hope," said Prof. Micgiel, who is the East Central European Center Director at Columbia. "They were there at the beginning and they are here today at the end. As the old proverb says: 'Finis coronat opus,' meaning 'The end concludes the deed.' In this case, PSFCU not only concludes the deed, but it also greatly helped to begin the work."
By contributing one-sixth of the total amount needed to create the department, the PSFCU has shown once again its strong commitment to its members and neighbors. And in an era where financial institutions are teetering on insolvency, the PSFCU has proven to be a beacon of success, as it continues to invest within the communities it serves.
"This is a prime example of what we like to call the 'credit union difference,'" said the PSFCU's Mr. Chmielewski. "We are deeply entwined in the lives of Polish-Americans, and we feel a strong responsibility to improving and celebrating their lives and heritage. We truly feel we make a difference in the lives of our members, and that's something that no bank can do."

Go to main navigation