Free Medical Screenings at PSFCU:
Our Credit Union Cares Not Only About
"Healthy" Finances…
Although Polish and Slavic Federal Credit Union is usually associated with safe finances, our credit union also gets involved in a different kind of activities, investing in the physical well-being of our members. The organizational effort that PSFCU puts into the preparation of free medical screenings is an example of our comprehensive investment strategy.
Another round of free medical examinations took place on November 8, 2008, at the PSFCU Headquarters at 100 McGuinness Blvd. in Brooklyn. Over 100 members signed up for the event, most of whom do not have any medical insurance. Registration sheet filled within just a week from the announcement of the date of the event.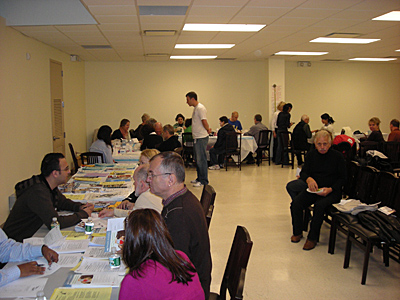 Our Members talk to the Bellevue doctors
Our Credit Union provided its premises for the screenings and assigned funds for educational materials written in Polish and for the interpreters. PSFCU started the program 5 years ago, showing our members that we strive to be more than a financial partner for them.

People that signed up for the examinations showed up at Our Union to have their blood pressure checked, and to have their sugar and cholesterol levels measured. After each test was completed (which took only 5-7 minutes), the doctors interpreted the results and provided medical advice. Female members of PSFCU aged over 40 also had an opportunity to sign up for free mammography administered at the Bellevue Hospital.

"I came here for the first time and, certainly, not the last. My test results are good, so I am really glad. I think I will also sign up for the mammography"-said Ms. Stanisława Kasperowicz, who took advantage of our initiative and came in to check her health.

"I also came here for the first time, encouraged by my husband, who is taking part in the program for the second time. I am pleasantly surprised by the nice atmosphere and the personnel's kindness. I did not expect such an initiative from a financial institution"-added Ms. Krystyna Tałałaj.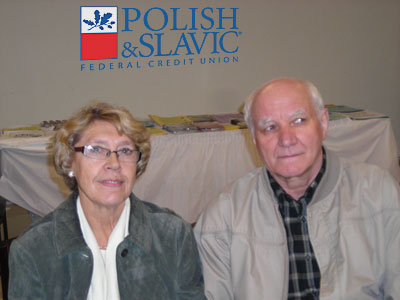 Ms. Krystyna Tałałaj and Mr. Jan Just
A lot of people admitted that if it wasn't for the free medical exams, they would not visit a doctor any time soon. "Thanks to this program I have learnt that I should take better care of my health. I will take the doctor's advice and will start going for walks. I will also change my diet,"
Mr. Mieczysław Waczyński assured us.

Bellevue employees were also satisfied with the PSFCU's initiative. "We come to your Credit Union with a great pleasure. Everything is well organized, the patients are polite and your employees are very helpful," said Chris Cho, Assistant Director at Bellevue Hospital Center. "We hope that we will be able to organize the event again next year."

Go to main navigation