Polonia's and Poland's Credit Unions
at the Round Table

Representatives of our Credit Union, along with the CEOs of two other ethnic credit unions and delegates of credit unions from Poland, gathered on November 6th and November 7th at the PSFCU headquarters on McGuinness Blvd. in Brooklyn for a historic 'Round Table Conference.

The meeting of the Polish-American credit unions and credit unions from Poland, organized by PSFCU's Chief Executive Officer, Bogan Chmielewski, was the first event of this kind in our history. Its goal was for the participants to get to know one another and to lay foundation for future cooperation, as well as to share their professional experiences.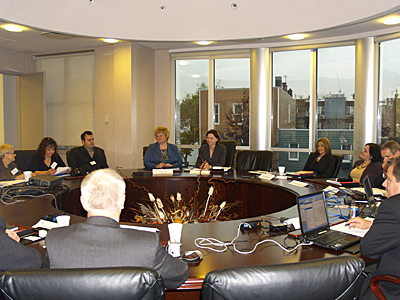 The participants share their experiences
Present at our Round Table (which, incidentally is indeed round and is located in the PSFCU Executive Conference Room) were: Ms. Anita Dul, COO of Polish American Congress Federal Credit Union (PACFCU) from Michigan and a member of its Board of Directors, Ms. Iwona Karpeta, Chief Executive Officer of United Poles Federal Credit Union (UPFCU) from Perth Amboy, NJ, as well as representatives of the National Association of Cooperative Savings and Credit Union (Loan?) 'SKOK' from Poland: Mr. Lech Lamenta, Vice President of the Association, and Mr. Lech Majewski, Cards and Settlements Manager.

In addition to Mr. Chmielewski, the event was hosted by Ms. Agnieszka Poślednik, PSFCU's Chief Operating Officer, Ms. Edyta Matula, Vice President of Operations and Mr. Piotr Chaber, Vice President of Research and Development.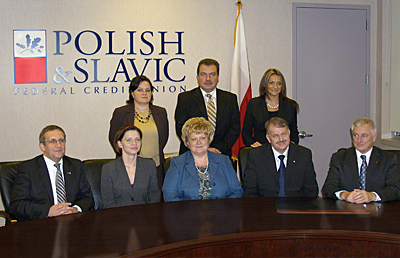 PSFCU management, standing from the left:
A. Poślednik, P. Chaber, E. Martula
Sitting, from the left: B. Chmielewski, our CEO, and the guests:
I. Karpeta, A. Dul, L. Lamenta, L. Majewski
Mr. Bogdan Chmielewski began the event by presenting the history and structure of the Polish & Slavic Federal Credit Union, the largest ethnic financial institution in the US. Our guests then followed with their introductions and presentations of their institutions' achievements. As it turned out, all participants had very similar experiences, enjoyed similar successes and faced similar challenges. All of them exemplify the financial success of the Polish people, both in the US and in Poland.

After the introductions, the meeting focused on cooperation in a variety of areas, such as 'shared branching', which would enable shared use of the branches, especially with regard to the ATMs. This is a key issue for credit union members who are visiting Poland.

Issues presented at the conference will be analyzed in depth by managements of the respective institutions. All participants saw purpose in the continuation of these initiatives and expressed both the will and the necessity for organizing such events in the future.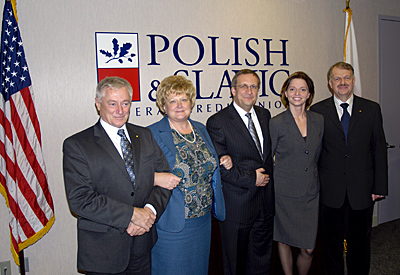 From the left: L. Majewski, A. Dul, B. Chmielewski, I. Karpeta, L. Lamenta
As noted by the Polish-American media present at the post-event press conference, the meeting was a constructive example of the Polish-American organizations working and uniting for the benefit of their communities.


Go to main navigation