"Studia 4U"
Whenever Polish Students Organization and Polish & Slavic Federal Credit Union join forces, the result is impressive. "Studia 4U" is a perfect example of just that.

Thanks to PSFCU sponsorship, an informative session "Studia 4U", dealing with the issue of studying in the US, was held on September 21st at the Consulate General of the Republic of Poland. The event, organized annually by the Polish Students Organization, has been popular for years among young Polish Americans. Not only the potential students, but also their parents attended the event to learn how to be admitted into an institution of higher learning in the United States.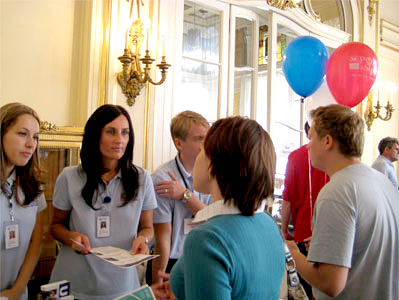 Our employees talk to the students
Polish Students Organization representatives conducted lectures on the educational system structure in the US, school application process, school exams, visas, school transfers (also between Poland and US) and sources of funding. Representatives of prestigious New York and New Jersey universities (Columbia, NYU, Stevens Institute of technology, or Rutgers) were also at hand to provide information on their schools.

The voluminous schedule also contained lectures on resume writing, European diploma equivalency recognition and work visas.

Our Credit Union was represented by a group of employees distributing promotional materials about the products and services which might be of interest to students. Mr. Marian Ponanta, Vice-President of Marketing and PR, prepared a short presentation entitled: "Why you should become a PSFCU member", highlighting 10 reasons why young people should use services provided by our CU. High on that list were PSFCU's assistance rendered to students, online banking services and a chance to build good credit history.
The "Studia 4U" event , which lasted for almost 8 hours, comprised of 17 individual presentations, which gave everyone present an ample opportunity to find the information they sought. What's more, everybody had a chance to ask a question and get additional information from the various lecturers.

"We are thrilled that the Credit Union continues to assist the Polish youth by helping fund their education and by sponsoring such events as "Studia 4U", which shows how to choose one's educational path and future professional career. We hope that the new generation of the Credit Union Members will then actively participate in the life of American Polonia," said Joanna Komar, President of the Polish Students Organization and coordinator of this year's "Studia 4U." "We do appreciate our longstanding relationship with PSFCU, which makes it easier for us to help and integrate young Poles who are scattered throughout many New York universities.

In the past 7 years, PSFCU has already helped over 800 of its young members fulfill their dream of studying at an American university, spending over $1.3 million on scholarships.

"We are very proud of the young Polonia's success and we are convinced that we need to support their efforts financially. We want each of our young members to get from us not only those products and services that answer their needs but also some assistance and guidance regarding their education and finances in general," commented Mr. Bogdan Chmielewski, PSFCU's Chief Executive Officer.

Go to main navigation